When I first heard about how effective Pinterest could be for my business in December 2016, I had a very small following… it wasn't zero, but it was great either:

I'd heard the statistics from people with a large following about how Pinterest was the highest source of traffic to their websites and how it had changed their whole approach to marketing. I decided that I wanted a piece of that pie!
But the problem was I knew nothing about Pinterest…
So, I did a tonne of research on Pinterest marketing strategies that worked for different bloggers, and came up with my own plan for my account, which is what I've used to compile the Pinterest marketing series that you're reading now.
In less than two months, I grew my following on Pinterest to over 1000 people (I took two weeks off during that time too), and it has been growing at an increasing rate ever since.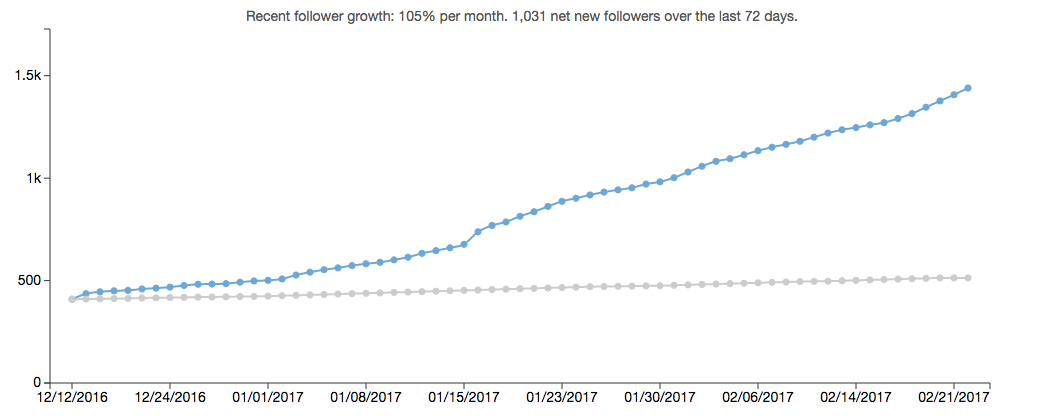 In this post, I will walk you through the steps I took to quickly build a Pinterest following. It's important to note that I didn't do all of this straight away (as the whole process has been a learning experience for me too) so even implementing only a few of these strategies will help you to grow your audience and start benefiting from increased traffic to your blog, repins on your posts and sales of your products.
Here's a summary of what's included in this post:
How to get your first 1000 Pinterest followers (quickly!)
Create an attractive Pinterest profile
Optimize your website for Pinterest
Create quality content to Pin
Pin content from other people
Join group boards (or start your own)
Join a Tailwind Tribe (or start your own)
Follow other Pinners in your niche
Follow other boards in your niche
Pin regularly
Schedule your Pins
Attract followers from other platforms
Disclaimer: This post contains affiliate links and I may earn a commission if you click them and make a purchase. This is at no cost to you and I only recommend products that I love.
Create an attractive Pinterest profile
An attractive Pinterest profile is one of the first and most important things you can do to build your brand on Pinterest. A well-planned Pinterest profile will help you to gain followers, get repins and organically grow your blog traffic.
This includes using clear branding, relevant keywords, and creating boards that appeal to your audience's interests, not your own.
I've written a how-to guide that will teach you how to set up your account (as a business account) and set up a Pinterest profile and boards that represent your brand. You can read the full blog post here.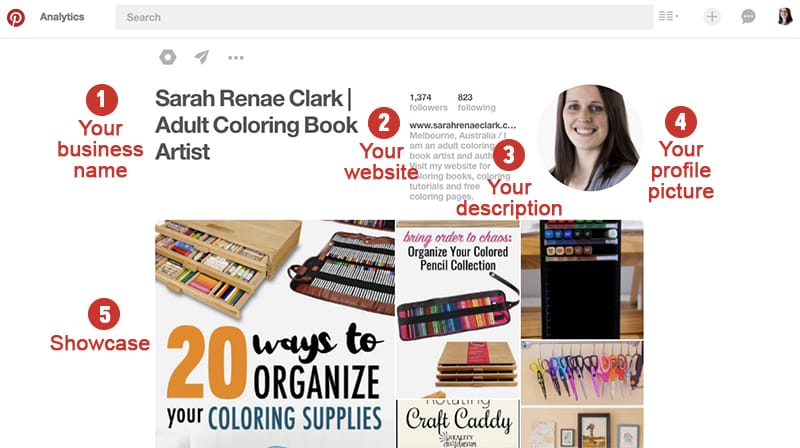 Optimize your website for Pinterest
If your goal with Pinterest is to direct traffic back to your website, you'll want to make sure your website is optimized for Pinterest.
I've written a detailed blog post that will show you:
How to verify your website on Pinterest
How to activate "Rich Pins"
How to set up social share icons on your pages and blog posts
How to install and use the Pinterest widgets on your website
How to create hidden Pinterest images on your blog posts
How to add Pinterest descriptions to your website pictures
The benefits of setting up an email newsletter to capture traffic
You can check out the blog post now here.
Create quality content to Pin
When I first started pinning, I assumed that a higher quantity of pins would result in more exposure, so I filled my boards with hundreds of Pins from Pinterest, my website and around the web. And to be honest… it worked for me for my first 1000 followers.
However, now that I've been pinning a little longer, I understand that Pinterest looks at the quality of your Pins and will show your content to more people if you regularly pin popular content… So my whole strategy had to change.
I spent the next few weeks going through old boards, cleaning up bad descriptions, removing unpopular Pins or Pins with broken links… and to be honest, I wish I had done it correctly the first time.
Instead of repeating my mistakes, read my guide on how to find and create quality Pins to fill your account that will result in higher repins and more exposure.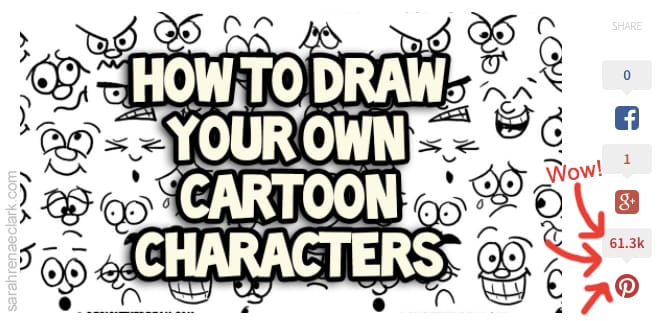 Pin content from other people
I've also covered this in more detail in my post about how to find and create great Pins, but I thought it was worth a mention here too.

This part is easy: Make sure approximately 80% of your Pins are other people's content. Nobody will be interested in following an account that's all about you (sorry!) and so you need to create a useful resource for your audience using content from other people.
This will help you build your Pinterest following quicker for a few reasons:
You can fill your boards quicker
You can Pin content that has already been proven to be popular and so you're more likely to get repins
You will show up in the "also pinned by" results at the bottom of those Pins elsewhere, which may attract more followers
You will become a more valuable resource and so people will want to follow you
Join group boards (or start your own)
You're probably asking "What is a Pinterest group board and why should I join one?"
I didn't really understand the power of group boards until I joined one that helped one of my Pins gain thousands of saves and shares.
Basically, a group board operates the same as any other board, except that you can invite other people to contribute to the board as collaborators. You can add collaborators in the settings of your boards:

You can identify group boards on anyone's account by the small people icon on the top.

Pinterest group boards can:
Increase your followers
Increase your exposure (to followers of your other contributors)
Increase the number of repins on your posts
The group boards you join will also show up on your own profile, so make sure you join boards that are relevant to your audience and add value.
If you start your own group board, you'll have the authority to add or remove contributors and remove any Pins that do not meet the guidelines and purpose of the board.
I run a number of group boards on my Pinterest profile related specifically to adult coloring but have also joined other group boards relating to general printables, seasonal content and other topics that I think my audience will find valuable.
TIP: You may want to turn off notifications so you don't get flooded with notifications every time someone adds a Pin to your group board.
Unfortunately Pinterest doesn't currently offer any easy way to locate group boards or request invitations, so it can be a little bit of work to find a good fit. Here are some other websites where you can find lists of Pinterest group boards that you may be able to join:
You can request an invite by contacting the owner of the group board (usually the first collaborator) or by checking if there are any details in the board description.
Join a Tailwind Tribe (or start your own)
Tailwind Tribes are another effective tool for collaborating with others in your niche. They allow you to share your content with a team of like-minded Pinners you know and trust who would be interested in sharing your content.
They act like a private Pinterest board for your Tribe, where you can recommend pins to your Tribe (following the rules set by the Tribe leader) and schedule each other's content straight to your Tailwind queue. It tracks how much each user has contributed and shared, so you can make sure your Tribe are all sharing as much content as they are adding.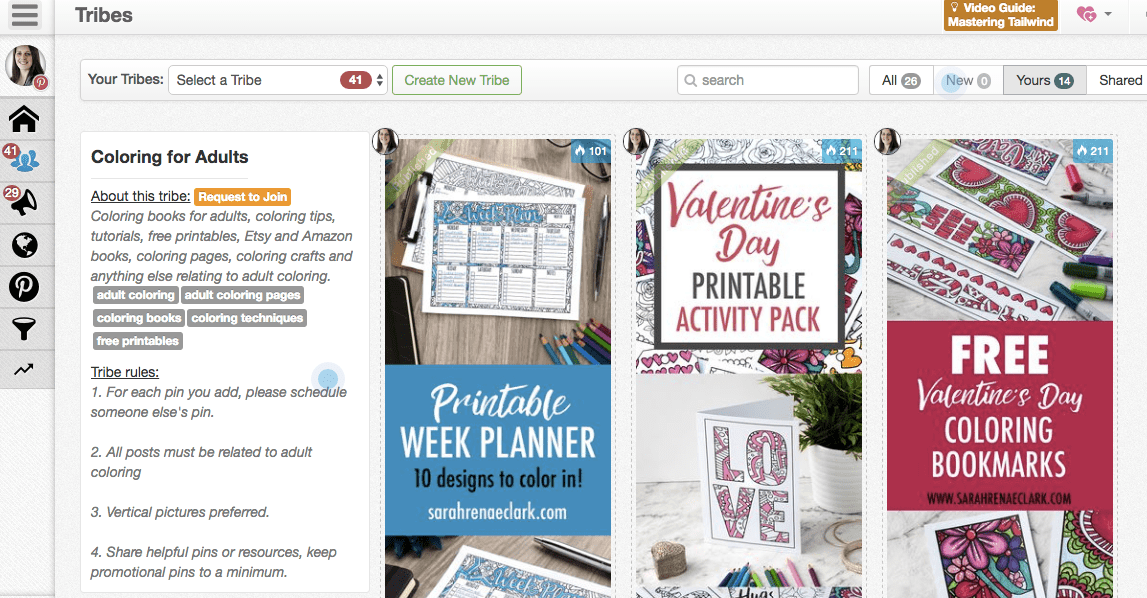 A good Tribe can significantly increase the reach of your Pins. Here's one of my Tribes I've been in for just over a month (these are my personal stats from my 18 Pins within the Tribe)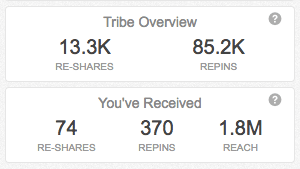 Tribes are free to use when you sign up to a free Tailwind trial (up to 100 pins free).
The best way to find Tribes at the moment is to join Facebook support groups or start a tribe with people you already know. Tailwind is currently working on new features that will allow you to search for other tribes within Tailwind.
I currently run two fairly new Tailwind tribes:
Coloring For Adults
Artists and Bloggers
If you'd like an invitation to either of my tribes, send me an email!
Follow other Pinners in your niche
Like most social media platforms, a good way to grow your following on Pinterest is to follow other people in your niche.

Using the "follow-unfollow" technique and just following hundreds of random accounts is frowned upon by other Pinners and will come across as spammy. Instead, type your keywords into the Pinterest search bar and filter your results to show other Pinners.

Follow Pinners that you are genuinely interested in or that Pin about your topic. If you've made an attractive Pinterest profile, you'll find that a number of them will follow you back.
The added bonus is that your home feed will include their content, which can help you to find valuable Pins for your own boards.
If you can, I'd recommend to try to find 10-20 Pinners in your niche each day, but don't worry if you don't find the time every day (honestly, I didn't!)
Follow other Boards in your niche
You can also follow specific Pinterest boards instead of following a whole account. This is a good way to narrow down on your niche further, especially if you're following people who like to include a board about everything they are interested in.
You can find boards using the Pinterest search bar too, or you can also find the boards that your own content is pinned to (check your notifications), because those users have already shown an interest in your content and will be more likely to follow you back.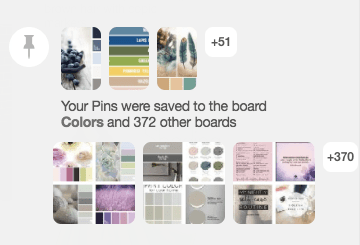 Break those Facebook habits… because while the recommended number of posts per day for most social media platforms is between one to three posts, many successful Pinterest marketers recommend pinning between 15-30 times a day.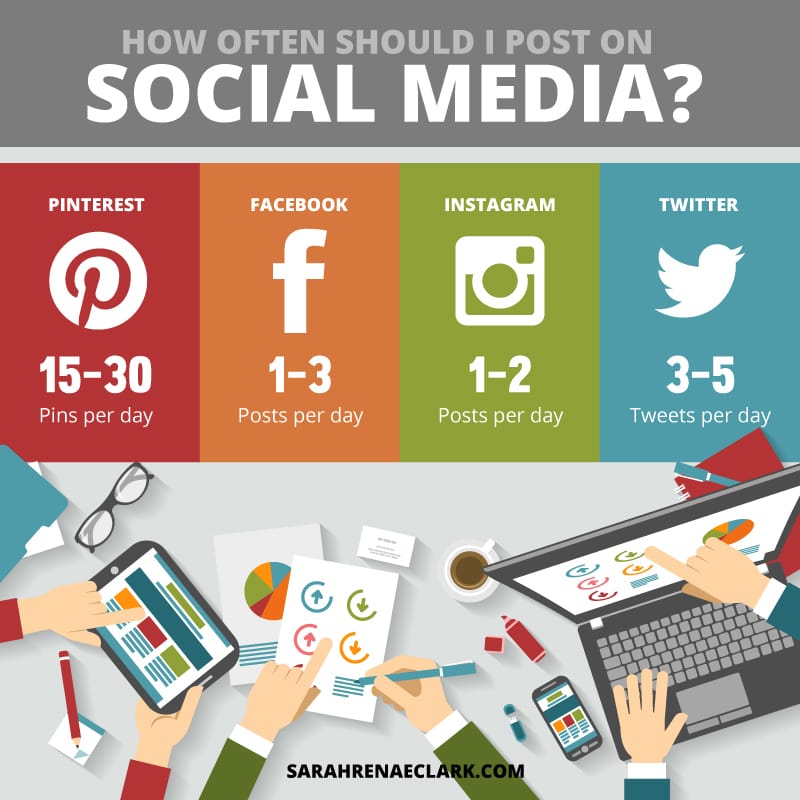 Thanks to Pinterest's Smart Feed, your followers won't see all 30 posts on their home feed. They will only see the posts that Pinterest believes they will be most interested in, based on keywords and the popularity of your Pins.
So if you want to be seen, you need to pin a LOT.
I've heard some people recommend to pin up to 100 times a day… wow! If you've got 100 quality Pins to share, then great! But the risk with such a high number is the drop in Pin quality that occurs by trying to Pin as much as possible as quickly as possible.
It is definitely important to be pinning at least 10 times a day, and you can do this easily with a scheduling tool like Tailwind or Boardbooster.
Scheduling your Pins can save you a lot of time and can help you to post on a consistent basis, regardless of what else happens during your week or what timezone you're in.
I usually keep my schedule topped up about two weeks in advance, so it is regularly pinning 15 Pins over a day for me… it's like having a virtual assistant!
I'm based in Australia, so I also want to make sure I'm pinning content when my key audience in the United States are awake… which is often the middle of the night for me. Scheduling makes this easy… and it's lovely waking up to another 30 followers each morning!
There are a few really helpful features that I use from both Tailwind and Boardbooster that have increased my productivity immensely.
I use Tailwind for my scheduling because I love that I can add a post to multiple boards (including my group boards) and tell it to schedule them at an interval. I often select four to eight boards on my account for one post, turning one Pin into four to eight pins over time. You can set them anywhere from 10 minutes to 90 days apart, and they will slot into your schedule.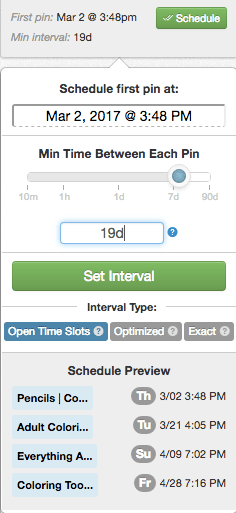 I also like that you can add pins to Tailwind just as easily as you can save them to Pinterest, thanks to the free Tailwind browser plugin. I usually save a bulk of ideas into my "drafts" then come back and add the descriptions and scheduling later.
Tailwind also has useful analytics that provide more detail than Pinterest's built-in analytics, including your new followers, pins, repins and likes over the past week, plus some useful board insights to help you identify which boards are performing the best: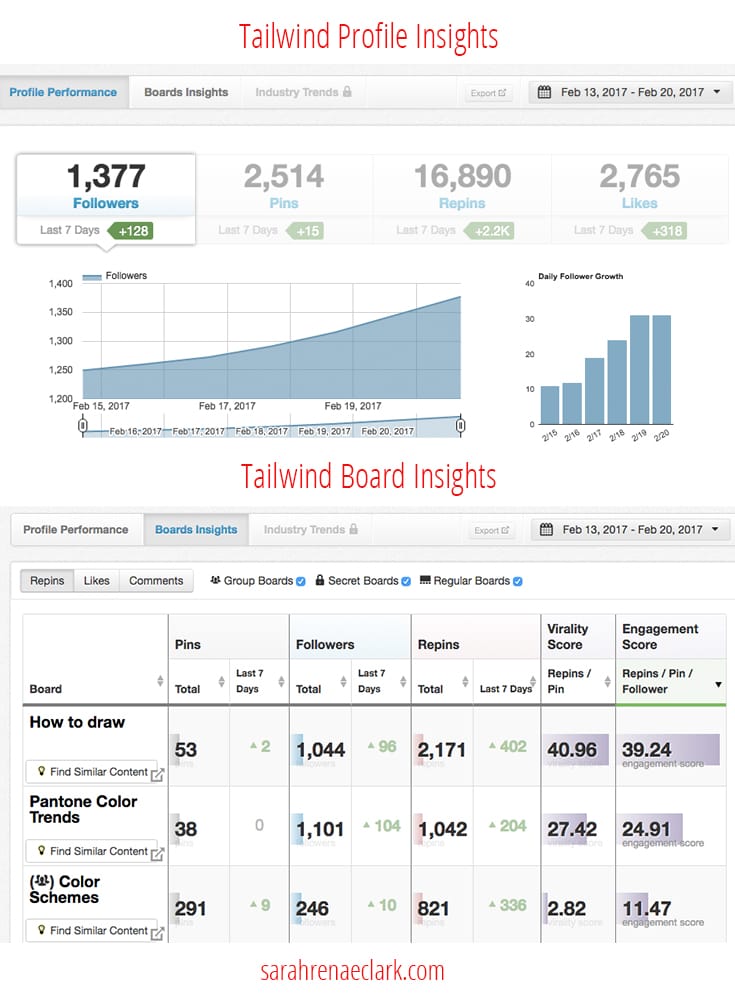 I also use Boardbooster, which offers many similar features to Tailwind, such as scheduling. I am only using Boardbooster for their looping feature at the moment, where Boardbooster will automatically repin the older content on my boards and delete the duplicates. This is a great way to revive old pins and keep your board fresh – I currently have looping set up for seven pins daily from seven of my boards (one each). I plan to use this a lot more as my boards grow.
Both programs offer a free trial where you get 100 free pins to test them out, and have paid plans starting at $5 and $10 a month, so you can figure out which one you prefer before spending any money.
Invite followers from other platforms
If you've already built a following on another social media platform, tell them about your Pinterest boards and invite them to follow you! You can also promote your Pinterest profile to your website visitors and email list.
Rather than just telling them to "Follow me on Pinterest", I've found a very effective way to attract followers is to tell them about specific boards they may find interesting.
Here's an example of one of my recent Facebook posts: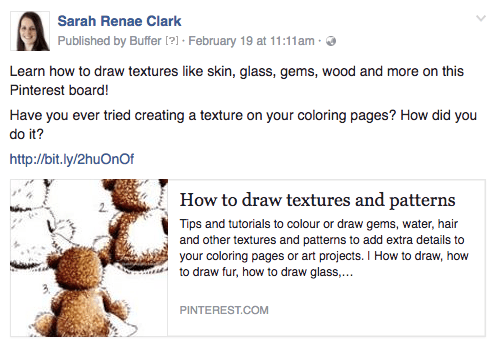 I spent a day loading all of my Pinterest boards into Buffer (a scheduling program) that posts them to my Facebook, Twitter and Google+ profiles automatically for me.
I also send out email newsletters using Mailchimp and include my Pinterest boards when I feel they will add value to my readers.
Pinterest also provides some great tools to include your profile and boards on your website.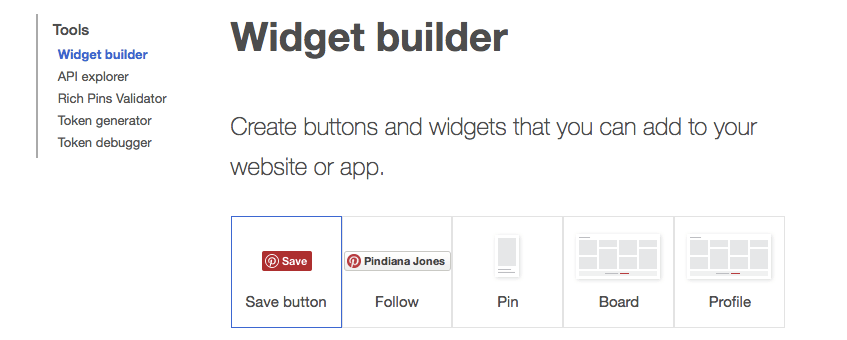 You can add these buttons and widgets into your sidebars, footers or even in a blog post like this one… You might as well press "Follow" while you're here 😛
If you try to implement as many of these Pinterest growth strategies as possible, you'll find that your following grows at a rapid rate.
I'd love to hear how you go, so please save this post and come back in two months to tell me in the comments how much your following has grown!
If you've found this Pinterest marketing series helpful, please share with your friends using the links below, and don't forget to download my free guide: The Ultimate Pinterest Marketing Checklist