Pinterest has been a game-changer for me when it comes to my online web traffic and sales.
Throughout this series of Pinterest marketing blog posts, I'll show you all the strategies I've used to grow my website traffic exponentially using Pinterest (without paid ads).
Here's a look at my own website data from December 2016 (when I first started looking at Pinterest marketing) until February 2017: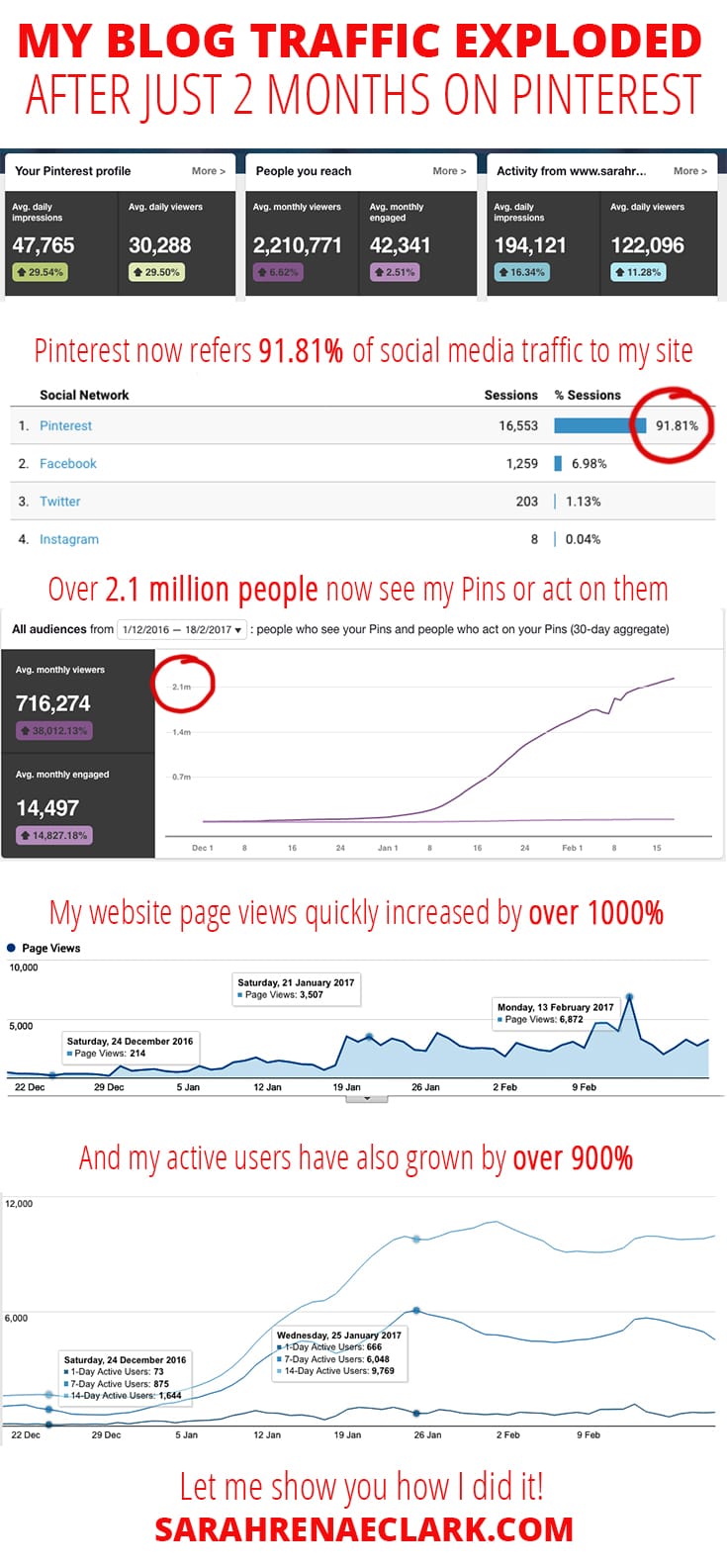 In just two months, Pinterest has become my top source of organic traffic by far, has increased my sales and refers more than 90% of my social media traffic (compared to Facebook, Twitter, Instagram and Google+)
If you want to achieve the same results, make sure you check out my other posts on Pinterest and grab my free Ultimate Pinterest Marketing Checklist to get started.
In this post, I'm going to show you the key elements of getting Pinterest connected to your website to benefit from the increase in traffic. We'll cover:
How to verify your website on Pinterest
How to activate "Rich Pins"
How to set up social share icons on your pages and blog posts
How to install and use the Pinterest widgets on your website
How to create hidden Pinterest images on your blog posts
How to add Pinterest descriptions to your website pictures
Why you should set up an email newsletter to capture traffic
There's a little bit of coding involved but I'll try to keep this as simple as possible so that most people can do it!
Before we start, make sure you've read my earlier blog post about getting your Pinterest account set up and optimized.
Disclaimer: This post contains affiliate links and I may earn a commission if you click them and make a purchase. This is at no cost to you and I only recommend products that I love.
How to verify your website on Pinterest
The first step to seeing website traffic from Pinterest is to make sure Pinterest knows you exist! Verifying your website with Pinterest takes approximately five to ten minutes. Here's how:
Open your Pinterest Account settings.
Scroll down to the Website field and click Confirm website.
From here, there are two options: copy the meta tag or upload the HTML file. I've included instructions for both:
Using the meta tag:
Copy the code provided and leave the window open.
Add it to the <head> section of the html file of your website just before the </head> tag. If you're using WordPress, you can directly paste this code in your header.php file before the </head> tag.
Go back to Pinterest and click
Uploading the HTML file:
Click download this file at the bottom of the window.
Upload the HTML file to your web server at the root folder (usually called public_html) – Do not rename the file or Pinterest won't be able to find it.
Go back to Pinterest and click
If you've installed it successfully, you'll see this nice little tick box when you refresh your account settings page:

How to activate "Rich Pins"
Have you noticed that some Pins include a bit more information than others, such as prices, recipe ingredients, websites, and icons?
These are called Rich Pins… and they are essential to growing your website traffic! They also allow users to click back to you profile on any Pin from your website, even if you didn't Pin it!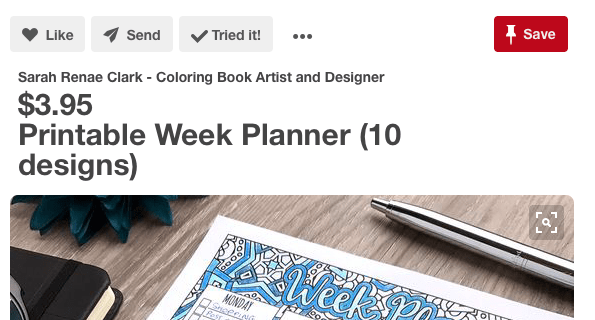 There are currently 6 different types of Rich Pins on Pinterest:
App Pins
Product Pins
Recipe Pins
Movie Pins
Article Pins
Place Pins
Here's how to set up Rich Pins on your website:
Make sure your website content includes meta tags. If you have WordPress or Shopify, this is already set up for you.
Choose any page that includes the data (for example, a blog post or product page) and copy the full URL of that page.
Go to the Pinterest Rich Pin Validator and paste your URL, then click Validate.
Fix any issues that show up, otherwise click Apply now.
Your Rich Pins should start working in about an hour!
Note: You only need to validate one page for the Rich Pins to apply to your whole website.
If you're stuck, check out Pinterest's detailed instructions on their website.
How to set up social share icons on your pages and blog posts
Social share buttons allow your audience to easily share your content on social media. They are an extremely valuable tool to encourage your audience to promote you to their friends.

You should add social share buttons to every page of your website, including product pages and blog posts.
Pinterest offers a save button on their website. It looks like this: (why not save this blog post to test it out!)
You can create a save button by going to the Pinterest Widget builder and following the instructions on the page.
If you get stuck, here are further instructions from Pinterest on getting your button installed.
If you're using WordPress and are already on multiple social media platforms, you may prefer to use a plugin that will add all of your social share buttons to your blog posts and pages automatically.
There are a number of free and premium WordPress social share plugins available, depending on the style, location and options you prefer. Some plugins also offer a counter that shows the number of times your post has been shared.
After trying heaps of plugins, I now use Social Pug on my blog. It's not free, but it's been working for me. There are other free options available if you do a search on WordPress.
How to install and use the Pinterest widgets on your website
I've already mentioned the Pinterest save button, but that's not the only widget that Pinterest offers to businesses.
Head back to the Pinterest Widget builder and follow the instructions to create these other Pinterest widgets that you can include on your website or in specific blog posts:
Pinterest follow button (like this – Sarah Renae Clark )
A link to a specific Pin
A link to your profile
A link to a specific board (see below)
How to install a Pinterest widget on your website:
Choose your widget
Complete the form with the details requested
Copy and paste the code onto your page where you want it to appear. If you're using WordPress, switch over the text/HTML editor on your blog posts to paste the code.
Make sure you also include the second code once per page
And that's it!
How to create hidden Pinterest images on your blog posts
Obviously you won't always want all of your Pinterest images to be visible in your blog post, especially if you plan to create two or three for every post. So I'll show you a little trick that I use to create hidden Pinterest images on your blog posts.
Let's test this out… Try saving this page to Pinterest (click "Pinterest" on the social share buttons at the bottom) and you'll see that Pinterest gives you two or three different tall images that you can Pin, and yet they're actually hidden in this post. I've done this by adding a small bit of CSS code to my pages.
If you haven't made any Pinterest images yet, check out my blog post on creating great Pins.
Here's how to create hidden Pinterest images in WordPress:
Upload your Pinterest images to your post. I usually add mine to the bottom.
Add your description in the "alt image" field – this is the description that will be used when people Pin your image to Pinterest.
Switch over to the text/HTML view.
Add this code BEFORE your first hidden image: <div style="display:none">
Add this code AFTER your last hidden image: </div>
Your final code should look something like this:

If you're not using WordPress, you can still use the same code above but paste it in your HTML file where the picture is located.
How to add Pinterest descriptions to your website pictures
One of the most effective ways for your content to be discovered on Pinterest is to make sure all of your Pins have quality descriptions using relevant keywords.
But what if someone saves a Pin directly from your website instead of your Pinterest account?
Most casual pinners ignore the description box when they save Pins, meaning it's highly likely that the original description will be attached to that Pin as it gets repinned by other people. So it's important to make sure the original description on your website includes your keywords and the description that you want and isn't left blank.
If you're using WordPress, this is super simple. You just need to enter your Pinterest description in the alt image field in your image settings.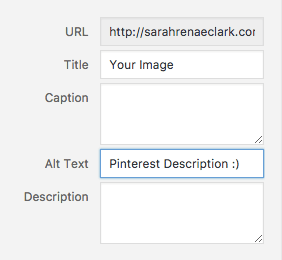 In case you missed it, I've written more about how to create attractive Pins and write keyword-rich Pinterest descriptions in my previous blog post.
Why you should set up an email newsletter to capture traffic
This is a little bit off topic, but since we are optimizing our website to gain Pinterest traffic, I felt the need to include it.
Because believe it or not, building a huge Pinterest following is not the end goal here.
The problem with any social media platform is that you can't control it. Algorithms change, rules change, or worse… your page could get shut down completely.
That's why it's important to use these networks to send traffic back to your website, and ultimately to your email list, which is completely in your control!
So even if Pinterest shuts down your account or changes the system completely so your followers don't see your content, you will have already built a huge fan base on your own email list, where you can contact your subscribers whenever you choose.
The best way to get your Pinterest traffic to sign up to your newsletter is to include an email sign up form on your blog post, your website header, your sidebar, and anywhere else. If you have something to offer your readers for free, even better!
I use Mailchimp for my email newsletter, because it has a lot of WordPress plugins that you can use to create beautiful sign up forms with little effort, and it's free for your first 2000 subscribers. I use Optin Cat to create my sign up forms, and it sends the emails directly to Mailchimp automatically, which is awesome.
Getting your website set up correctly for Pinterest doesn't need to take much of your time and can produce amazing results. You'll see an increase in your traffic, your customers and your sales if you follow these steps and continue applying my Pinterest marketing tips from each of these blog posts.
I've created The Ultimate Pinterest Marketing Checklist that will cover everything from the post (and more) in a simple checklist format that you can print off and use to get a head start on your own Pinterest marketing strategy. Enter your details below to download it now for free.
In my next post, I'll show you exactly how I grew my following from 200 to over 1200 in just two months. You should check it out now.
P.S. Don't forget to Save this post for later and share it with your friends!