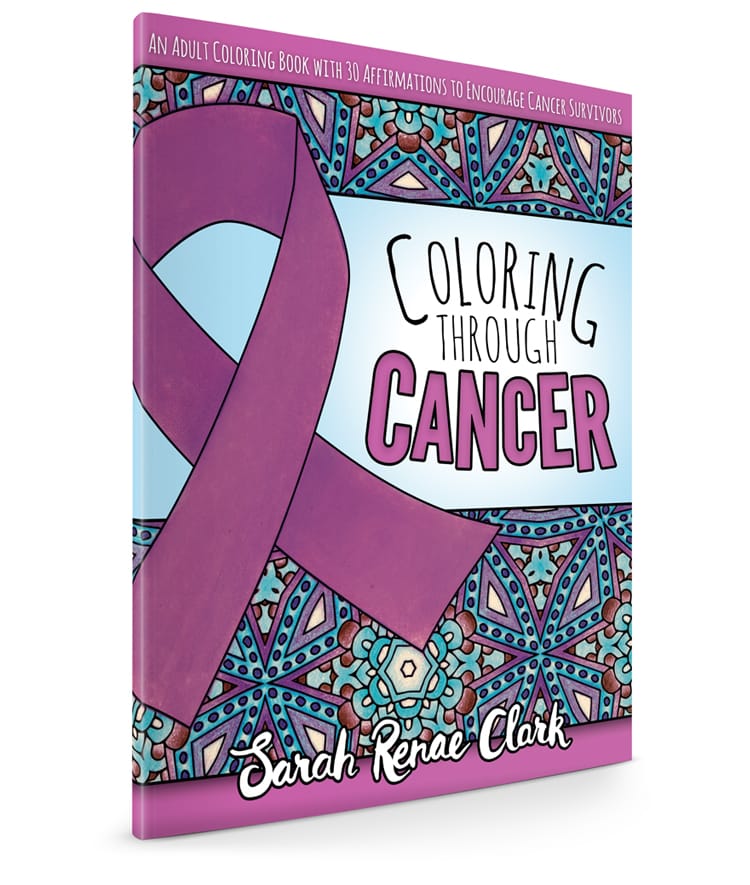 Coloring Through Cancer is an inspirational adult coloring book featuring 30 unique adult coloring pages, designed specifically for people who have lived with or are living with cancer. Each coloring page includes a positive affirmation to encourage and uplift every colorist.
Many cancer patients are already turning to adult coloring books to relax, relieve stress and get through treatment. Coloring Through Cancer takes adult coloring one step further for cancer patients by introducing powerful positive affirmations to each page.
Click here to view a list of the positive affirmations contained in Coloring Through Cancer.
Anyone who has been through cancer, is going through cancer or who knows someone who has been affected by cancer will love this adult coloring book.
From the Community Gallery
[fusion_testimonials design="classic" backgroundcolor="#f7f7f7″ random="yes"][fusion_testimonial name="Debby McNichols" avatar="none" image="" image_border_radius="" company="Amazon" link="" target="_self"]This is a very awesome and inspirational coloring book. I love all the pages. There are some things that are small to color but it's nothing that I can't handle. I just love the affirmations on each coloring page. As someone who has terminal Cancer, these are very important to me. It made me feel so much better just by looking at it and even better when I started coloring. I'm in love with this book and I most definitely recommend it to Cancer patients, survivors or their families and just everyone. Thank you Sarah Renae for your hard work and dedication on this coloring book.[/fusion_testimonial][fusion_testimonial name="Linda F" avatar="none" image="" image_border_radius="" company="Amazon" link="" target="_self"]This is a very inspirational book. I colored some of the pages then bought 10 more books to donate to my local cancer hospital. It's great encouragement and affirmations.[/fusion_testimonial][fusion_testimonial name="Sally" avatar="none" image="" image_border_radius="" company="Amazon" link="" target="_self"]I absolutely love this book. The quality of the drawings is very good., The affirmation, although aimed at people who are or have had, or care about someone that has battled cancer, are perfect reminders for everyone. I will probably be back to repurchase for a friend. Sarah Clark is a very talented artist. I would recommend this book to everyone![/fusion_testimonial][fusion_testimonial name="Amazon Customer" avatar="none" image="" image_border_radius="" company="Amazon" link="" target="_self"]This book is so encouraging! These words are applicable to people going through any illness, not just cancer. The pages are all single sided, which is great for a coloring book. I might even cut some of these pages out to frame and give to my local hospital once I've colored them in, because I think they are encouraging for everyone![/fusion_testimonial][fusion_testimonial name="Bunnye" avatar="none" image="" image_border_radius="" company="Amazon" link="" target="_self"]As a 9 year breast cancer survivor, I think think this coloring book is terrifically inspirational! The artwork is awesome & really lifts the spirits.[/fusion_testimonial][/fusion_testimonials]