Finding the right color combination can be one of the biggest obstacles to starting a new project.
That's why I started creating my popular color palettes – to help other creatives and colorists find beautiful color combinations for their craft projects, coloring pages, or creative businesses.

These color palettes have been shared on social media thousands of times and have been seen by millions on Pinterest, with people using them for adult coloring books, crafts, art projects, graphic design, fashion trends, knitting, scrapbooking, web design, branding and more.
So, I took it a step further and created an incredibly useful resource, The Color Catalog – with 250 color palettes in an interactive format that you can use on your tablet or mobile device for instant access to a library of color inspiration.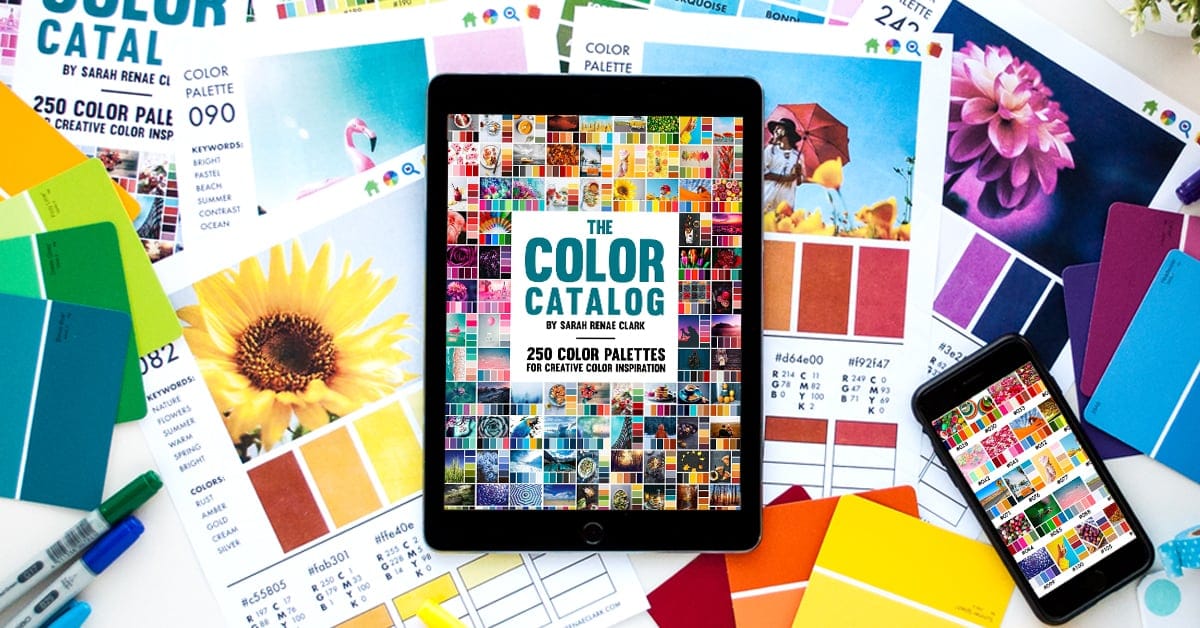 In this video, I want to give you a full walkthrough on how to use The Color Catalog, including:
How to order and download The Color Catalog. (00:30)
How to save the interactive version on your iPad. (02:00)
How to find the perfect color palette by color, keyword or collection. (03:25)
How to use the hex, RGB & CMYK codes and the coloring boxes. (05:55)
How to match your pencil colors to the colors in your favorite color palette. (07:05)
Bonus tips: 2 recommended 3rd party apps to unlock extra features of The Color Catalog. (08:30)
Below the video, I've asked customers to share how they are using The Color Catalog, so you can get inspired and see how easy it is to use these color palettes in your own projects.
If you haven't already purchased The Color Catalog, you can find out more here.

How to Use The Color Catalog
Extra Tips from Baylee Jae on Choosing Colors
Have you heard of @BayleeJaeArt? Baylee is an amazing artist, with hundreds of helpful videos on Youtube – so I was tickled pink when she said YES to checking out The Color Catalog! 💖
Not only did she use it on one of her pages, but she gave some great tips on saving paper when printing it out, tips for matching the right colors from your markers or pencils… and her coloring of my anchor page from the Maritime Collection was AMAZING!
Check out her video below…
How Other Creatives are Using Color Palettes
Even if you can't afford The Color Catalog right now, you can find my color palettes on my blog, Instagram and Pinterest to help you choose colors that work together.
Here's a look at how others have been using these color palettes.
As you would have seen in Baylee Jae's video above, she chose to print out her favorite palette from The Color Catalog and matched up her Copic Markers using the boxes provided. Even though the colors printed differently to how they displayed on the screen, the end result was amazing. In her example, she avoided the temptation to add other colors and chose to stick to the 5 colors in the palette.
"You can find websites out there that have pictures and swatches like this, but this is just so handy because it's ONE PDF… Everything's right here and it's interactive… I just like this! I'd never go back to those palette websites… this is just so much more convenient!" – Baylee Jae

Emma Turnbull has been one of my colorists and a good friend since I started making coloring books. She regularly uses color palettes from @dailycolorpalettes on Instagram and The Color Catalog to help her choose colors for her pattern coloring pages.

Kellie uses my color palettes as inspiration for her handmade polymer clay jewelry that she sells in her Etsy shop. She showcases her process and inspiration on her Instagram page, @studio_1405.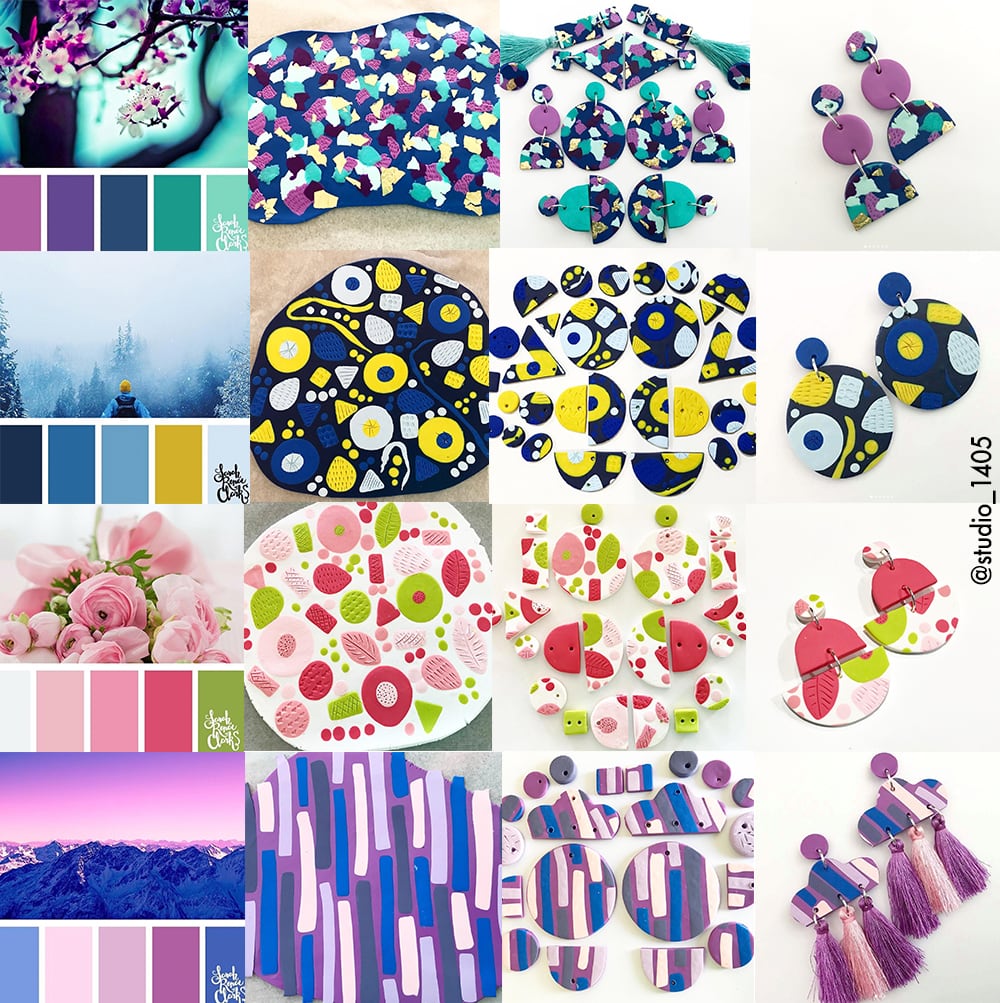 My Facebook group members have worked on some color palette challenges – using a specific color palette to color their next coloring page. Here are some of the results (from top left) by: Kerri Taylor, Chelsea Jacobs, Anna Weaver Hurtt, Christine Dittman, Emma Turnbull and Rachael Dickson.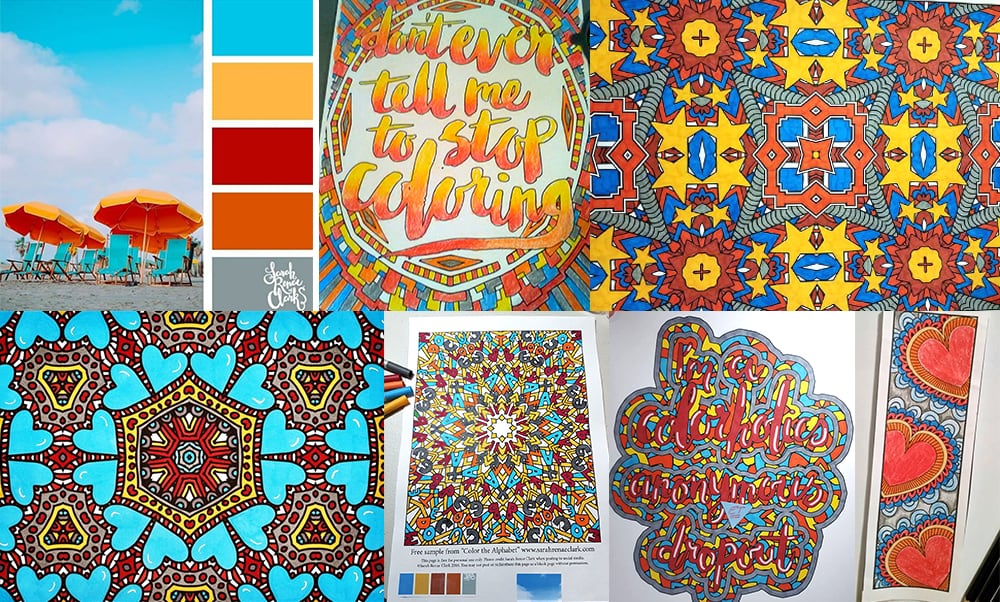 Color palettes aren't just useful for crafts and coloring. Here's a snapshot of some of the design elements and product images from my website and Instagram. As you can see, I've used a color palette to create a consistent theme throughout my branding and photos.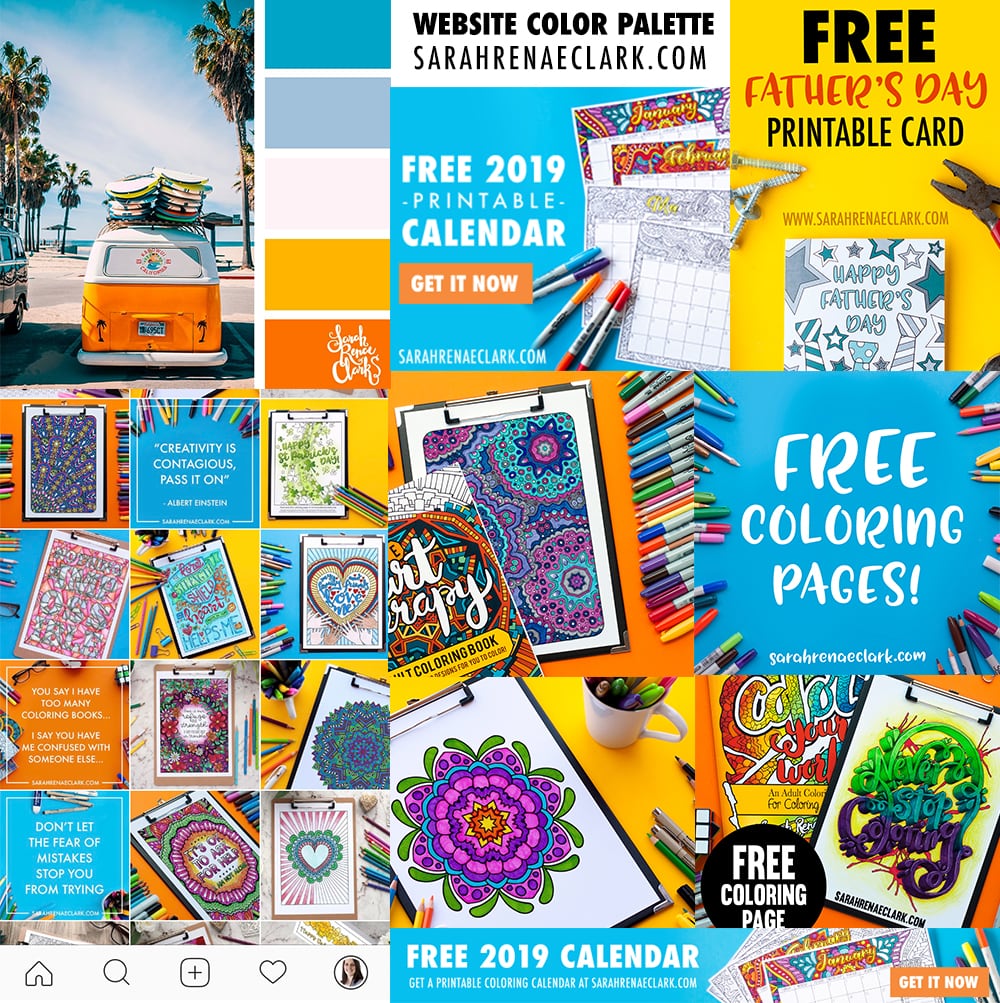 These are just some ideas to get you started, but there are so many other ways you can use color palettes like those in The Color Catalog. Here are some other ideas and comments from customers:
"This is an extremely helpful tool for finding good color combinations for many different purposes, not only coloring, but also quilting, interior design or web pages. It's interactive and really very easy to use. It will help me a lot." – Kerstin
"The Color Catalog is one of the best compilations of Color Charts I've come across and its uses go way beyond coloring. It is a good reference for painters, beaders and jewelry makers, fiber artists, paper crafters, mixed media artists and much much more. I was watching a YouTube video of an Acrylic Paint Pouring artist that I follow who found some of Sarah's color charts on Pinterest and used one particular color combo for one of his acrylic pours. He was amazed at the results using the color combo and has inspired many of his paint pouring followers to search Pinterest for new color combos. Kudos to Sarah for creating such a beautiful reference!" – Pamela C
"Love this. Will be very useful as I chose fabrics for my quilts as well colors for my card making and coloring. So glad to have found this." – Sandra
You can see other raving reviews from customers who have purchased The Color Catalog in the "Reviews" tab on the product page.

I hope you've found this video useful, and I'd love to hear how you use color palettes in the comments!