If you've been told you have too many coloring books, or if you love being creative and experimenting with new color combinations, then this free coloring page is for you!
This "Never Stop Coloring" free adult coloring page is from my coloring book Confessions of a Coloring Addict.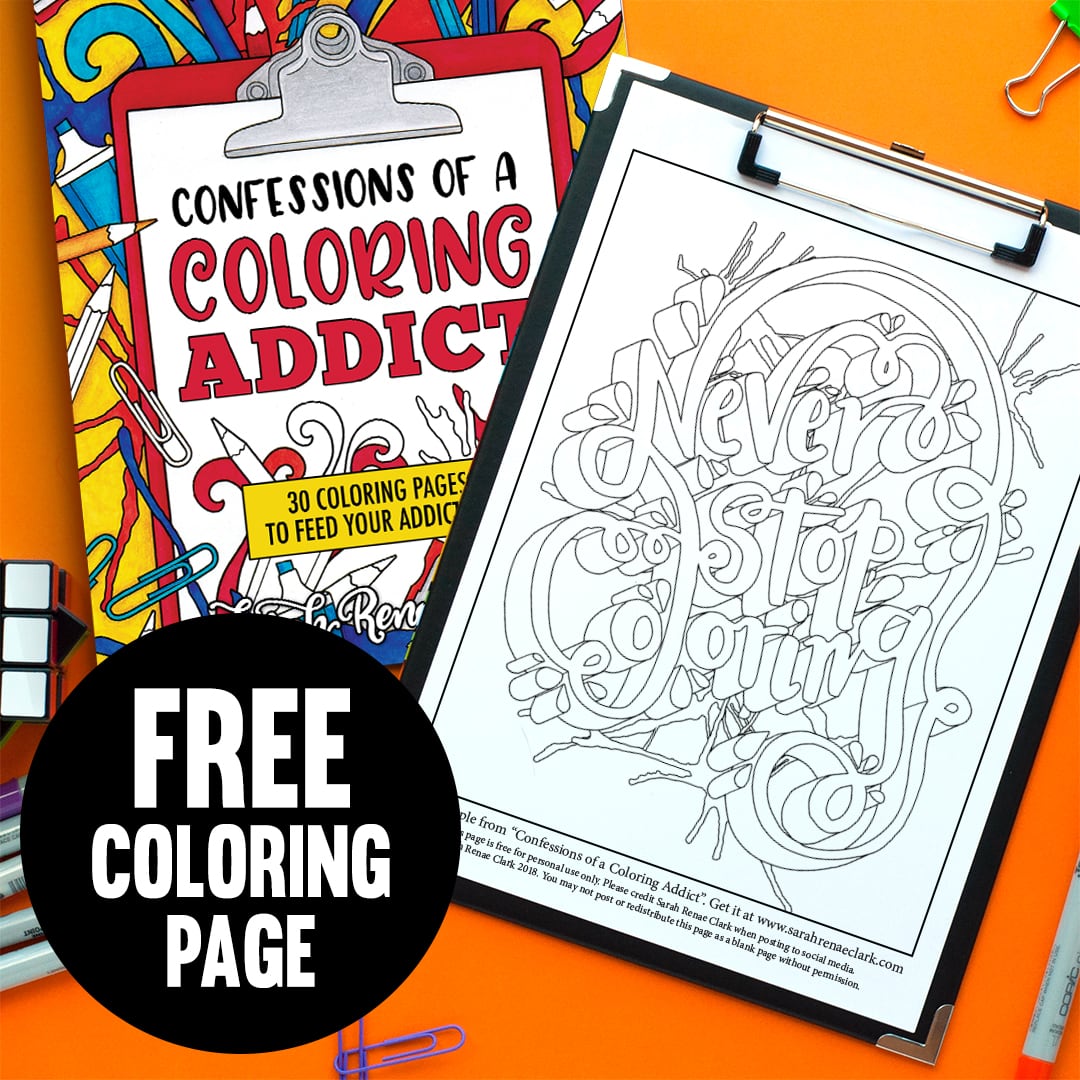 Here's a look at how I've colored it. I used Copic markers for the base layer (I love how easy it is to blend with Copic Markers!) although I only had a small set of 12 at the time of coloring this, so my range was limited and my purples came out much darker than I would have liked.
Then I used some Faber-Castell Polychromos pencils to do some further shading with similar colors, making up for my small Copic collection. I shaded all of the "3d" section of the words a slightly darker color. Then I imagined a light source coming from the top, so I shaded any sections even darker that wouldn't reach the light – under the words or in corners.
I also used the Copic colorless blender to remove the color on the top left corners of the lettering, however if I did this again, I'd probably use a white pencil or white gel pen for this instead.
Finally, I used a yellow pencil for the background, pressing firmer towards the middle and pressing lighter on the outside to create a gradient into the white.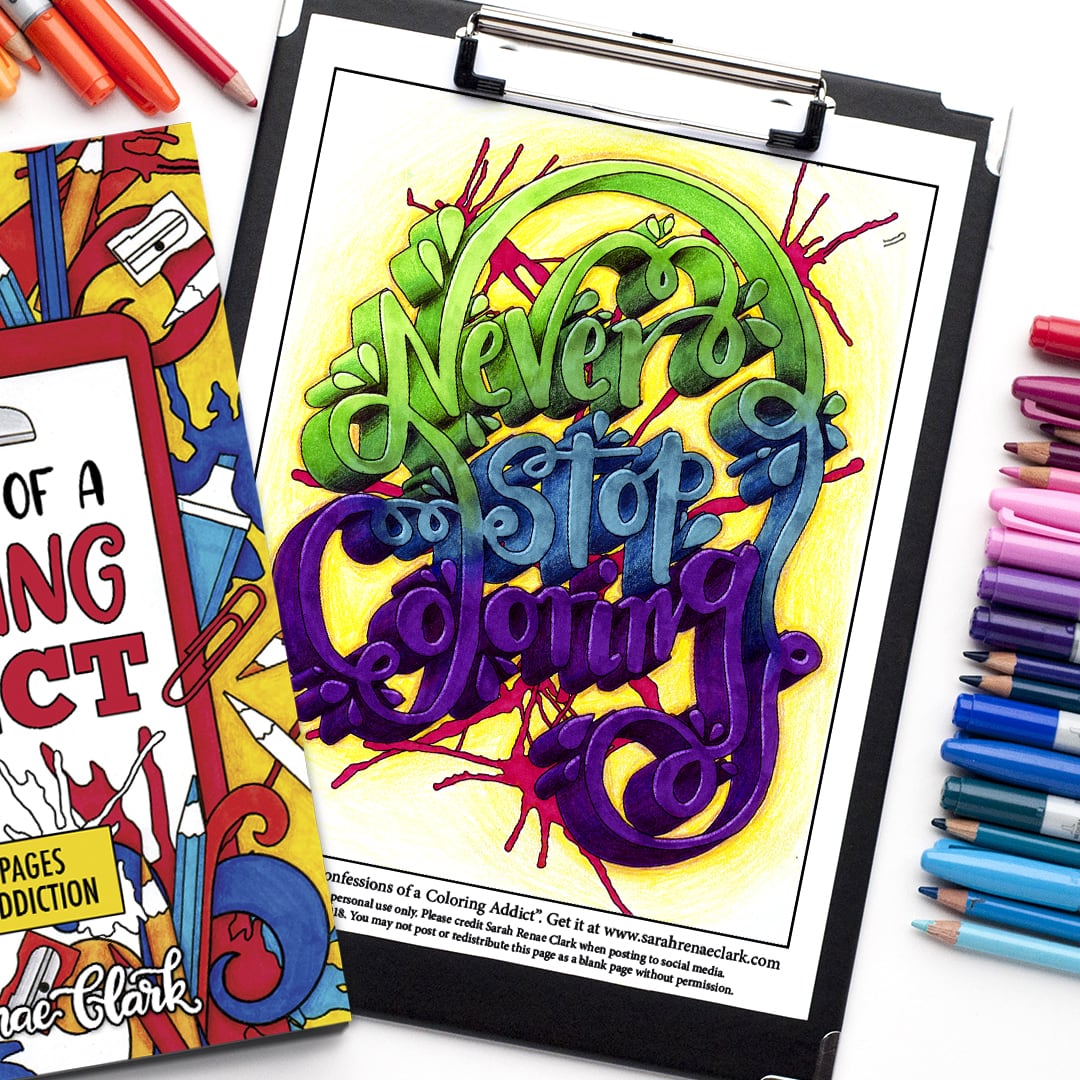 I originally released this free coloring page in January 2017, when it was part of one of my first adult coloring books, Color Your World. Color Your World had a full makeover in 2018, with new pages, a new cover, and the new title: Confessions of a Coloring Addict.
You can download your free coloring page below – but first, let me show you the coloring book!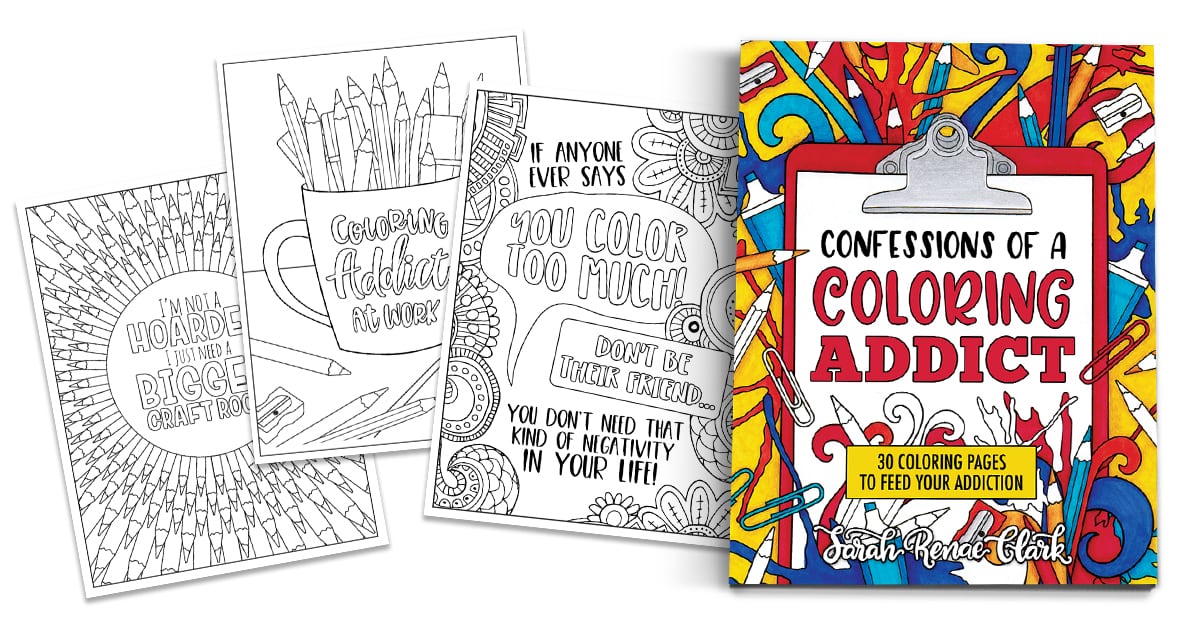 Confessions of a Coloring Addict
Confessions of a Coloring Addict brings you 30 fun-filled coloring pages with funny, inspirational and silly quotes that any coloring enthusiast can relate to.
Whether you're procrastinating cleaning the house or enjoying some coloring time with your furbaby, Confessions of a Coloring Addict is always ready to be brought to life by your colors!
A fun coloring book for all ages and skill levels. It's the book every colorholic needs to own. Let me show you some of the coloring pages…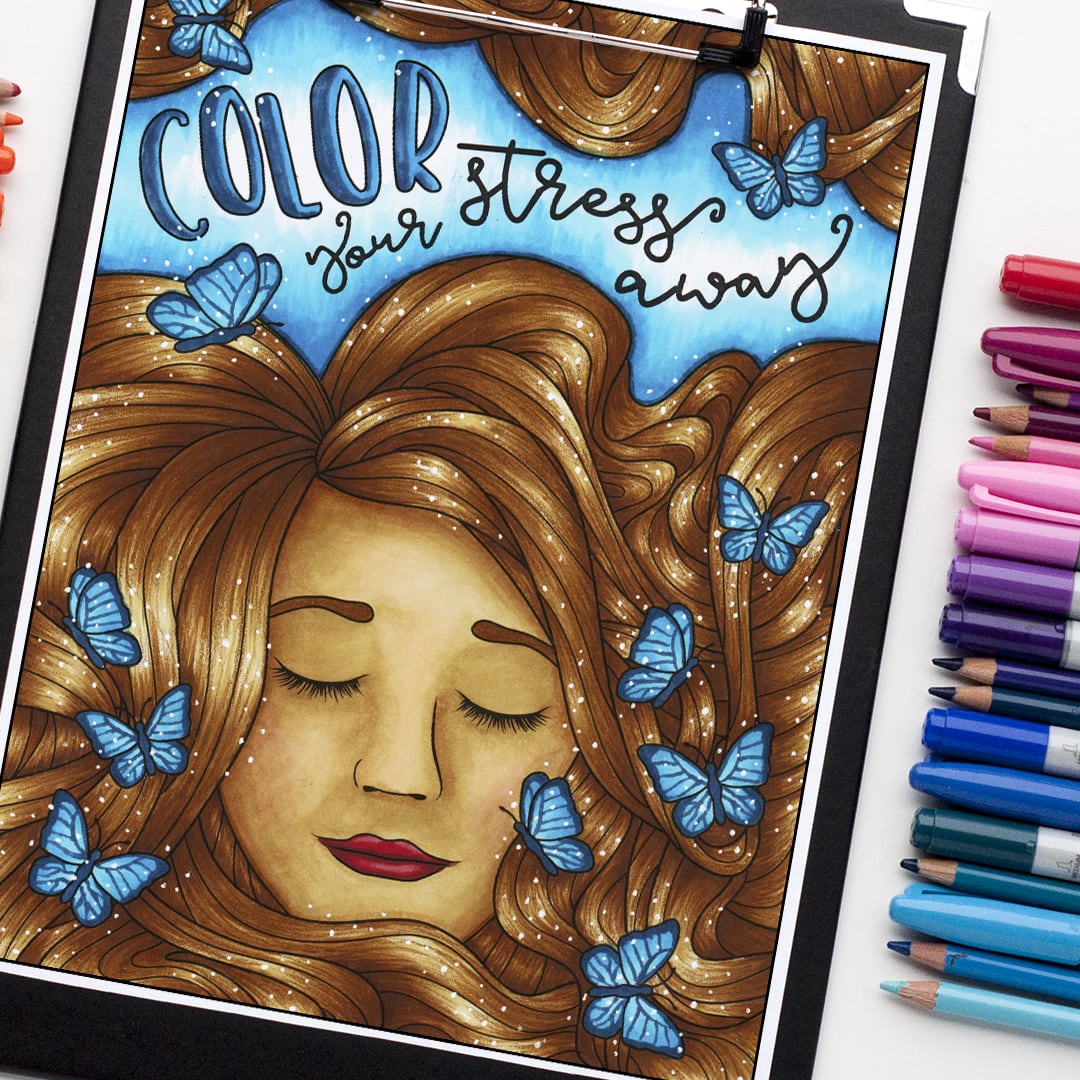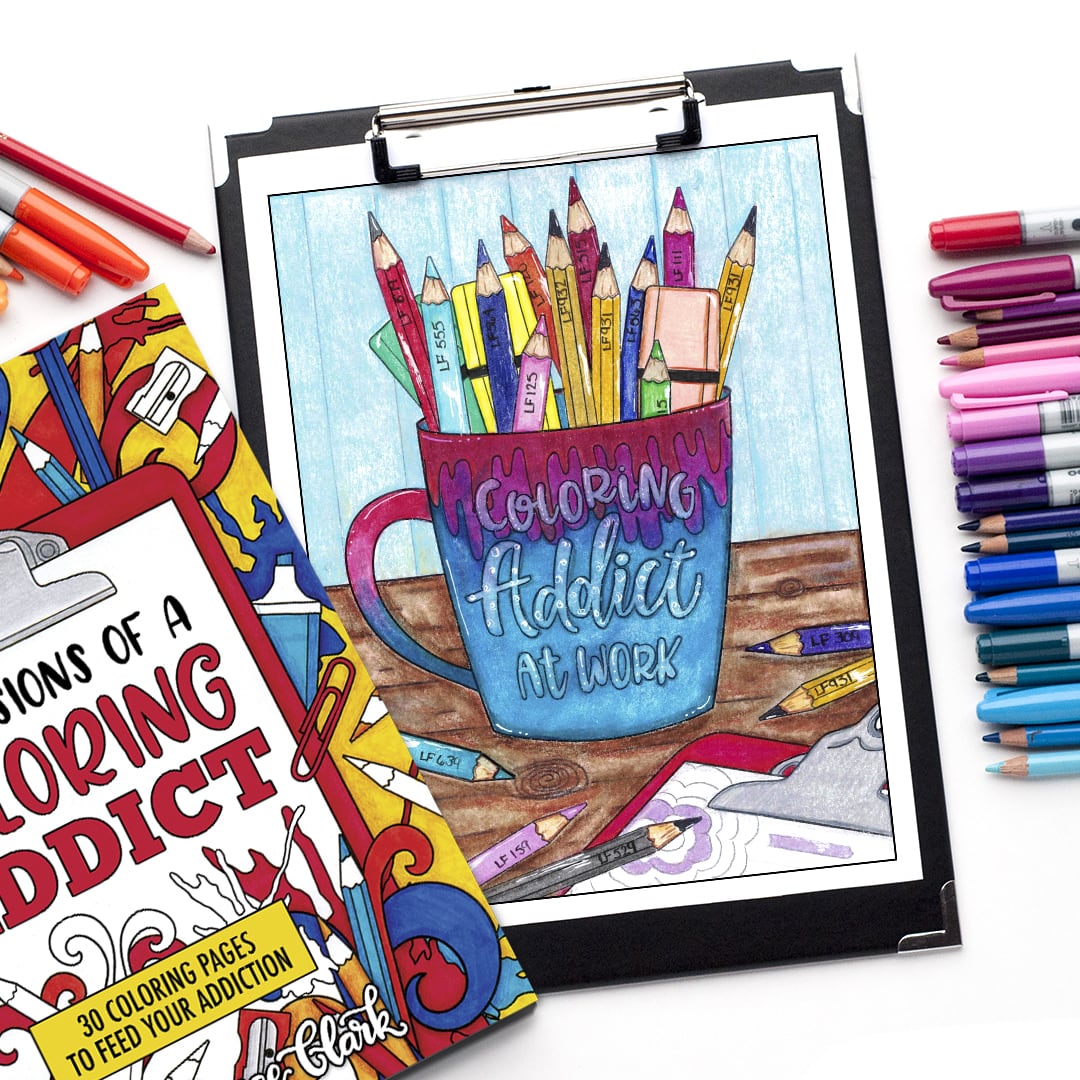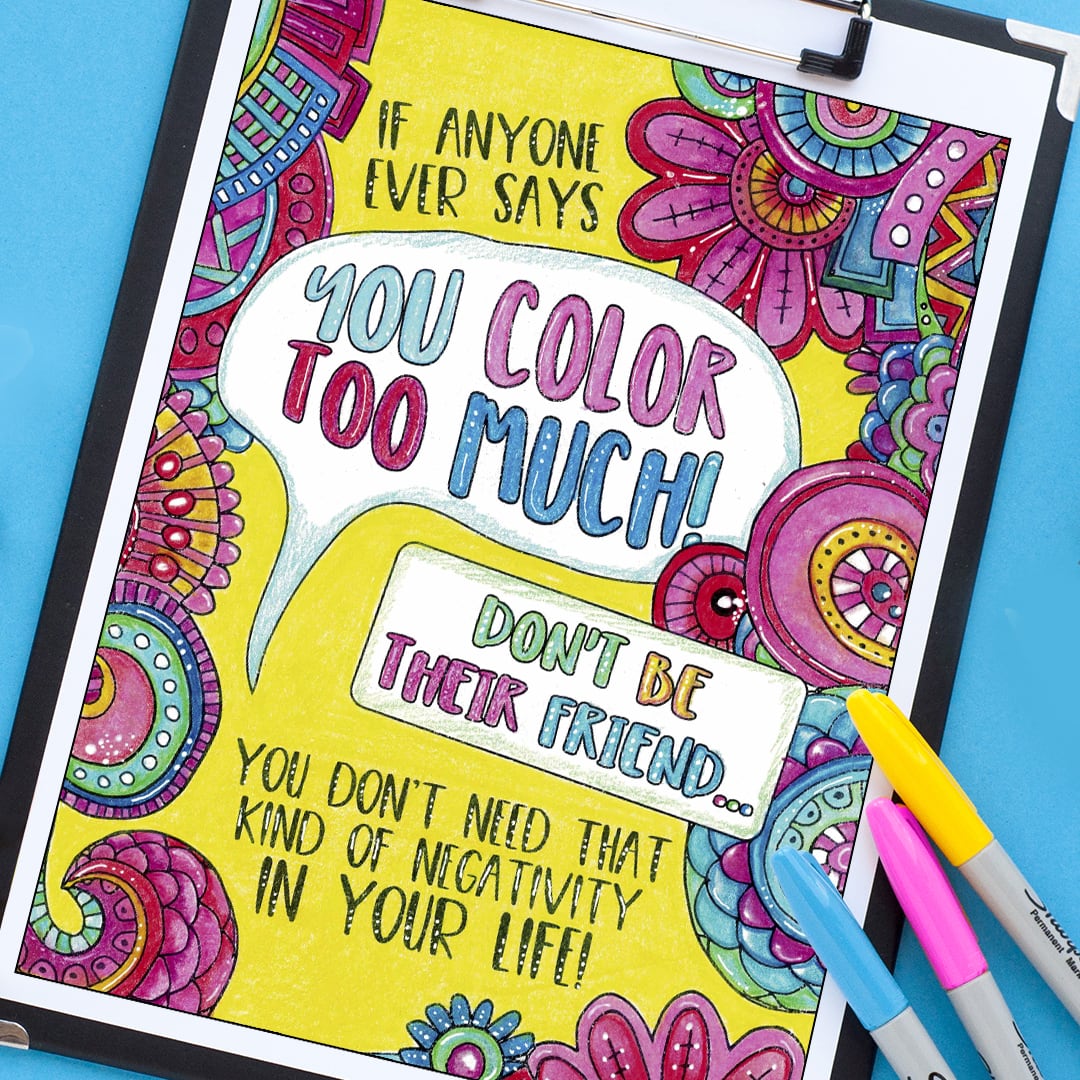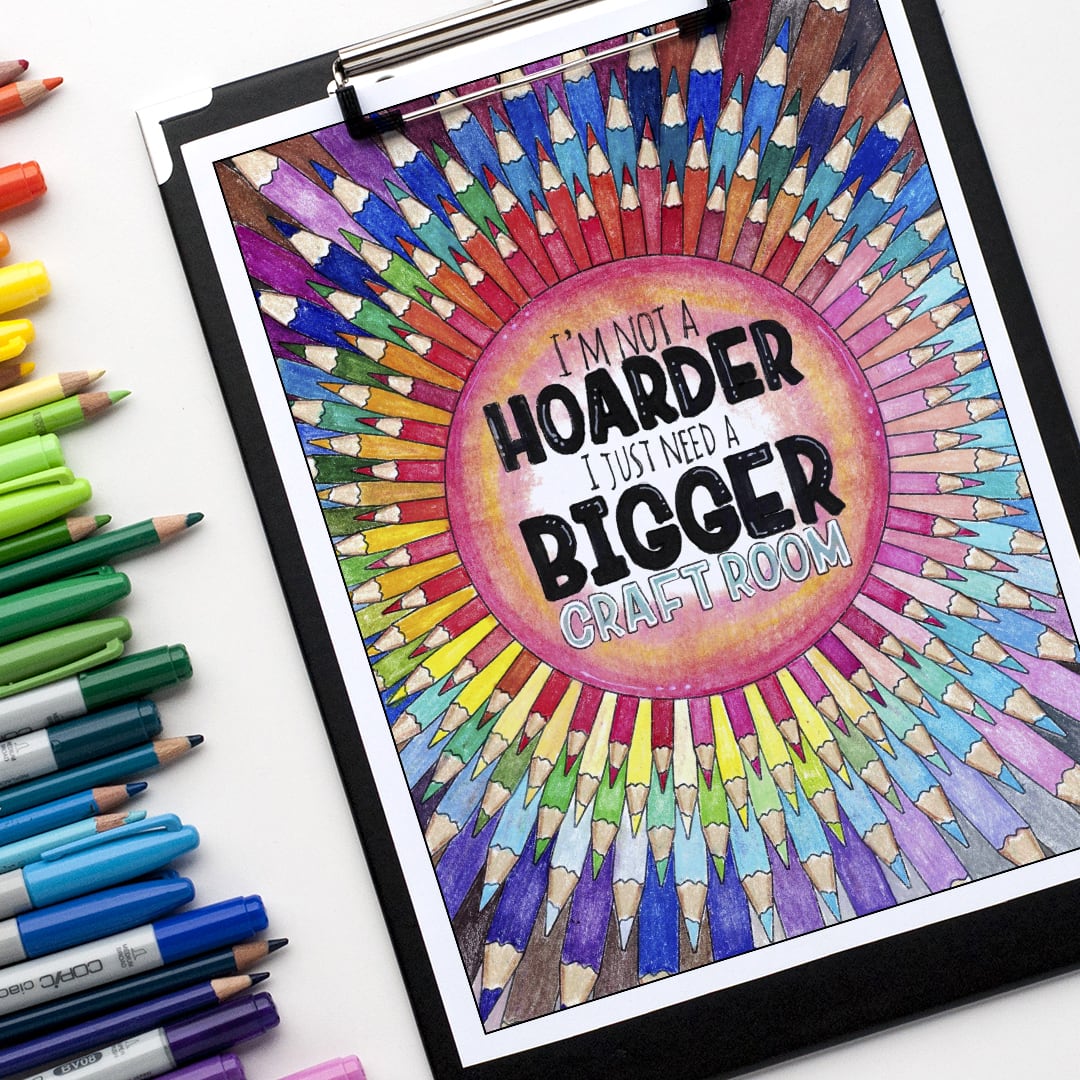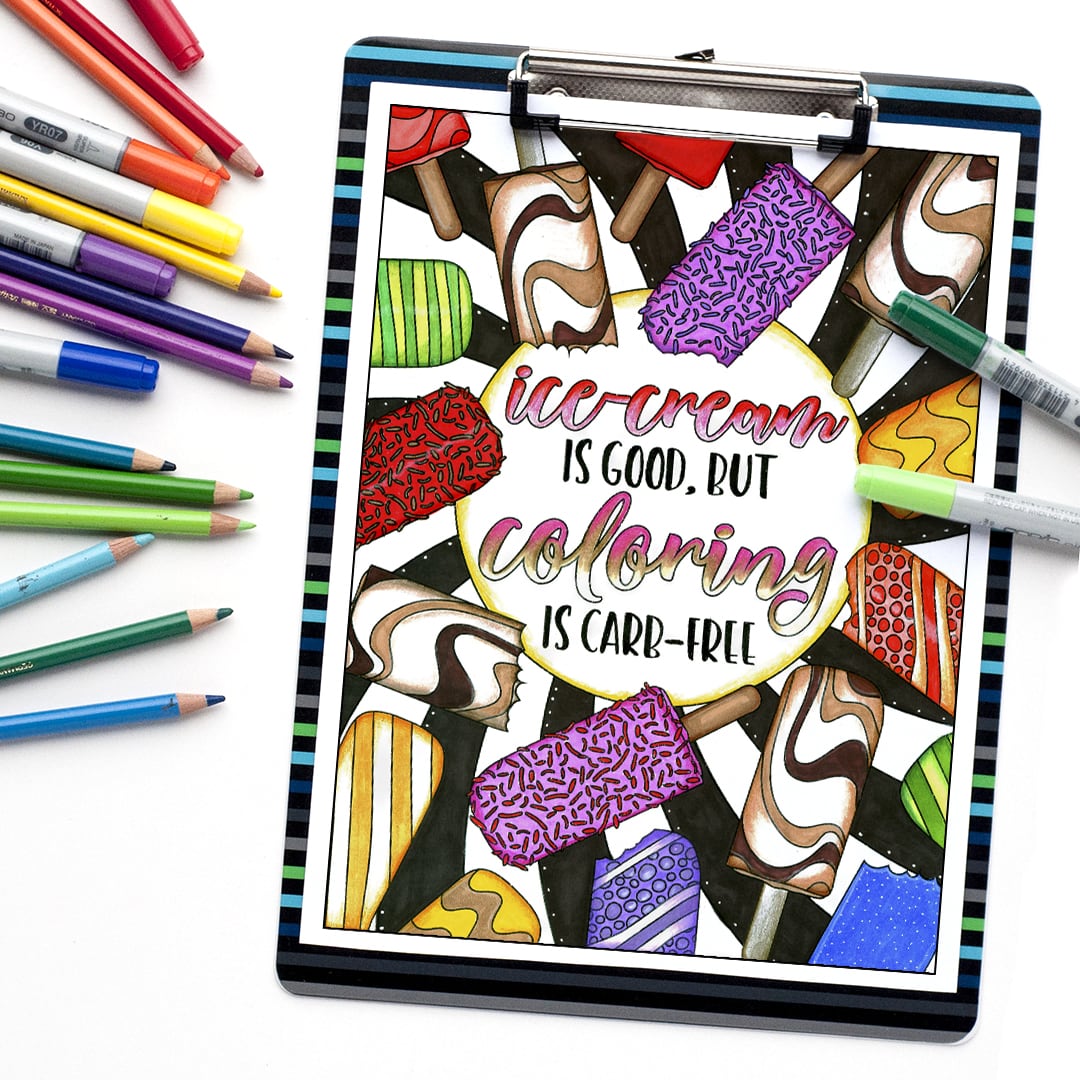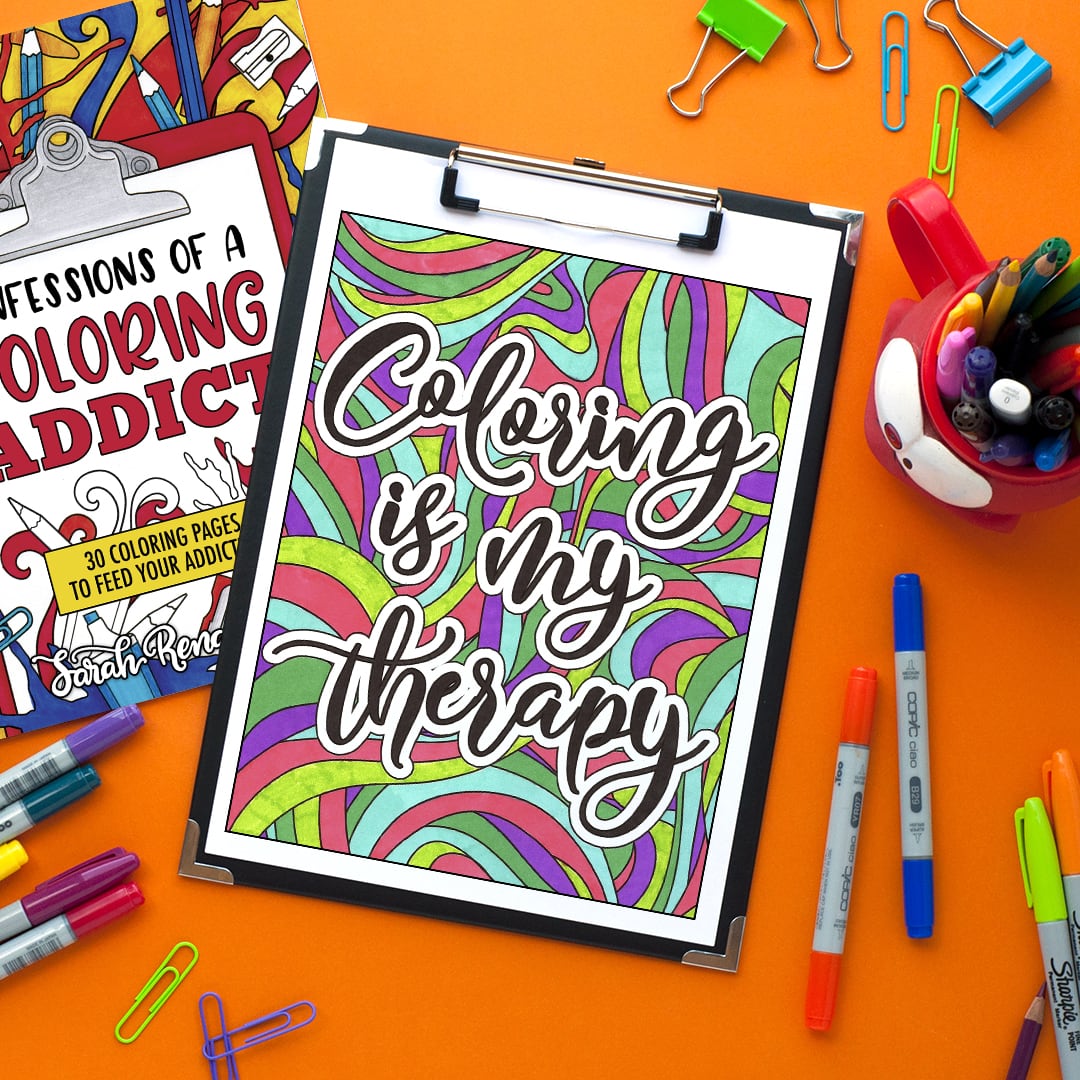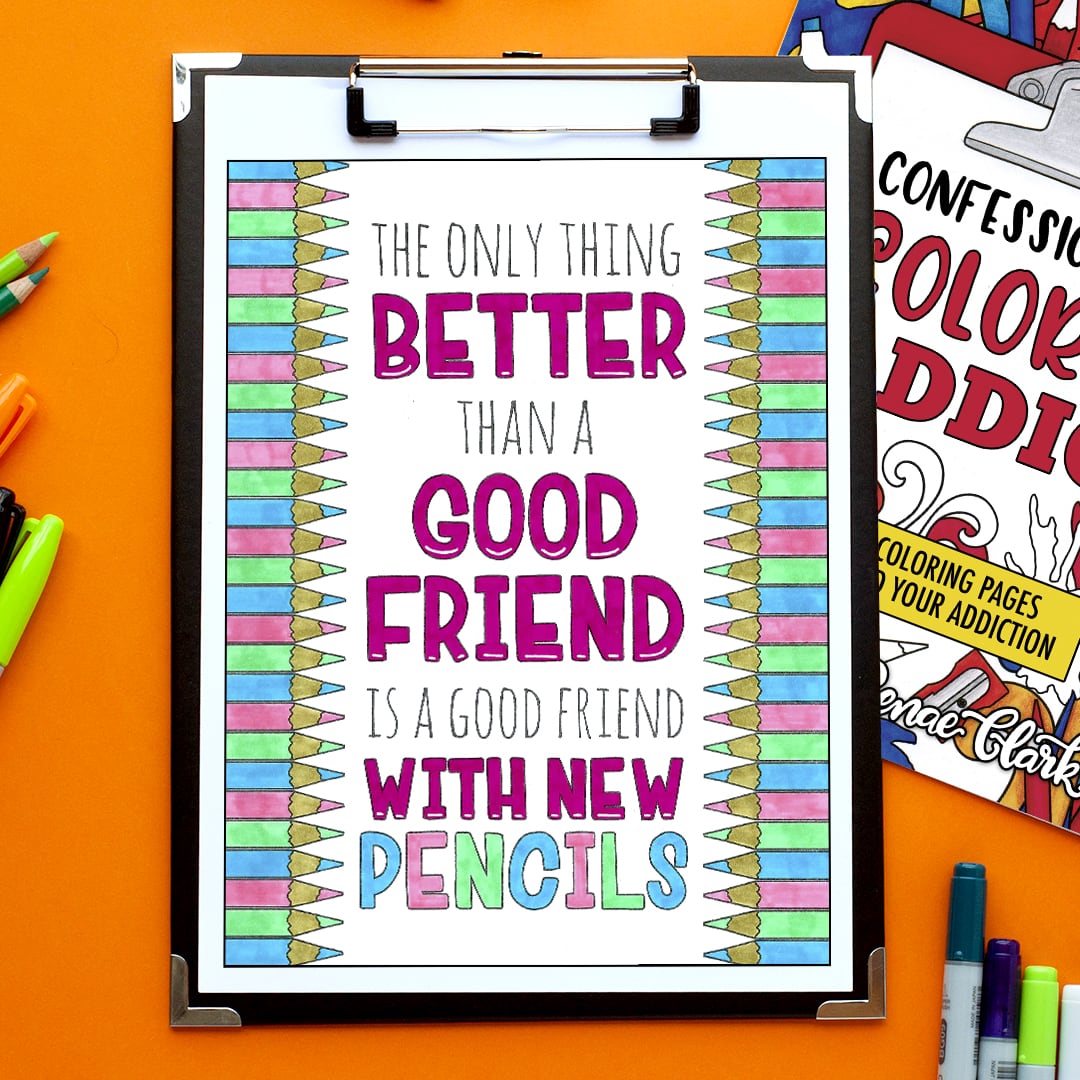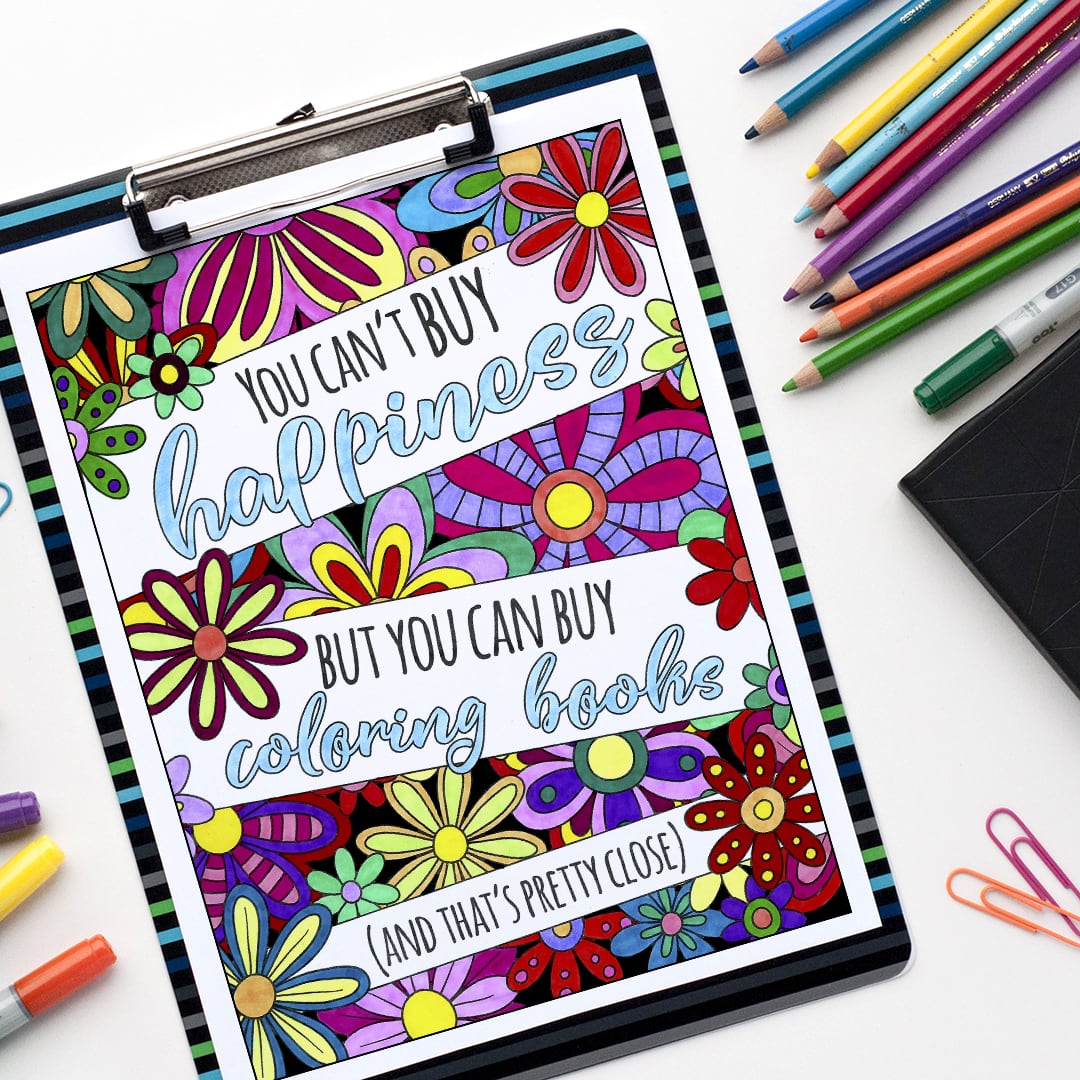 Get your free coloring page
Click the link below to access the free coloring page!
When you get to the product page, add it to your cart and checkout, and it will be emailed to you.
Interested in more funny coloring pages for coloring addicts? Check out Confessions of a Coloring Addict for 30 fun-filled coloring pages! Available on Amazon or as a PDF download. Click to find out more.
I hope you enjoy the Confessions of a Coloring Addict coloring book and this free coloring page. You can click the picture below to get it emailed to you as a PDF (add it to your cart and "checkout" to receive it) and post your pictures in my free Facebook group when you're done so I can see your amazing coloring!
If you like this coloring page, please share this post with your friends as a thank you 🙂