This Freebie Friday, I have a special page for you that is close to my heart.
My mom was diagnosed with stage 3 breast cancer in 2005. Since then, the cancer has cleared and reappeared on numerous occasions, putting our whole family through an emotional rollercoaster for the past 11 years, with the cancer spreading to her bones and causing other issues. The side effects of the most recent radiation in 2016 have caused one of her lungs to collapse, and have been emotionally and physically draining.
I gave my mom some of my coloring books to help her relax and find a positive focus during her recent treatment. She found them to be incredibly helpful, and it inspired me to work on something specifically for her and for others in a similar situation.
So many people are already coloring to get through their cancer experience. Cancer centers are starting art therapy programs and providing coloring books to patients… so now, I've created a book that focuses specifically on encouraging people who have been touched by cancer. (Keep reading to get a sneak peek)
I'm also giving away this free Awareness Ribbon coloring page that you can color for any cause.
You can get your free page HERE or by clicking the preview image below. But before you click…. Please keep reading to find about my special new book!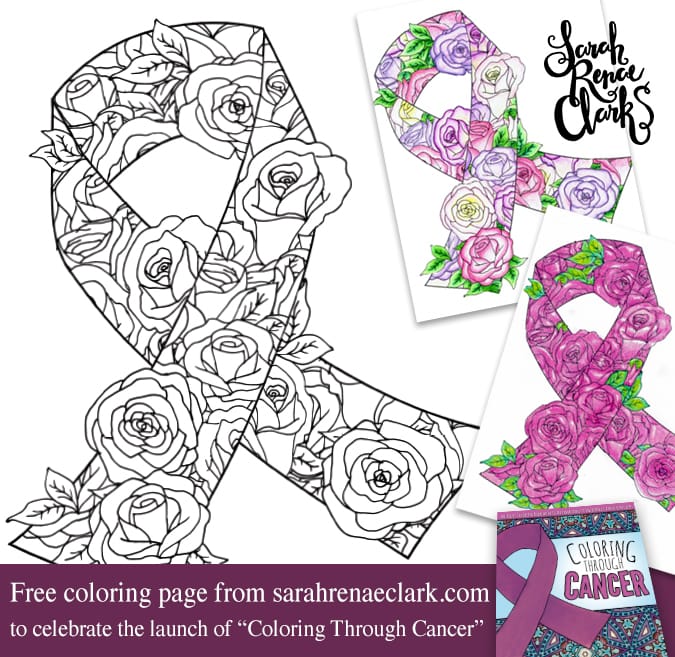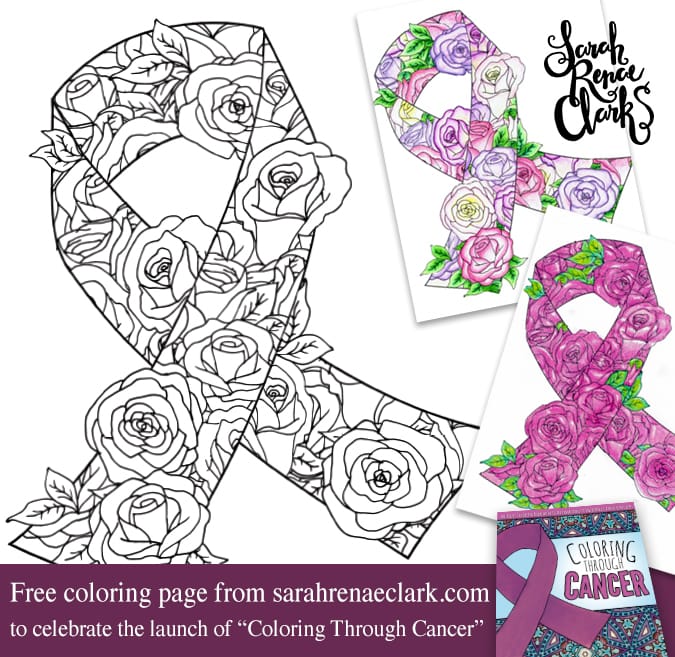 And now… here's a sneak peek of my new book that is coming out in July!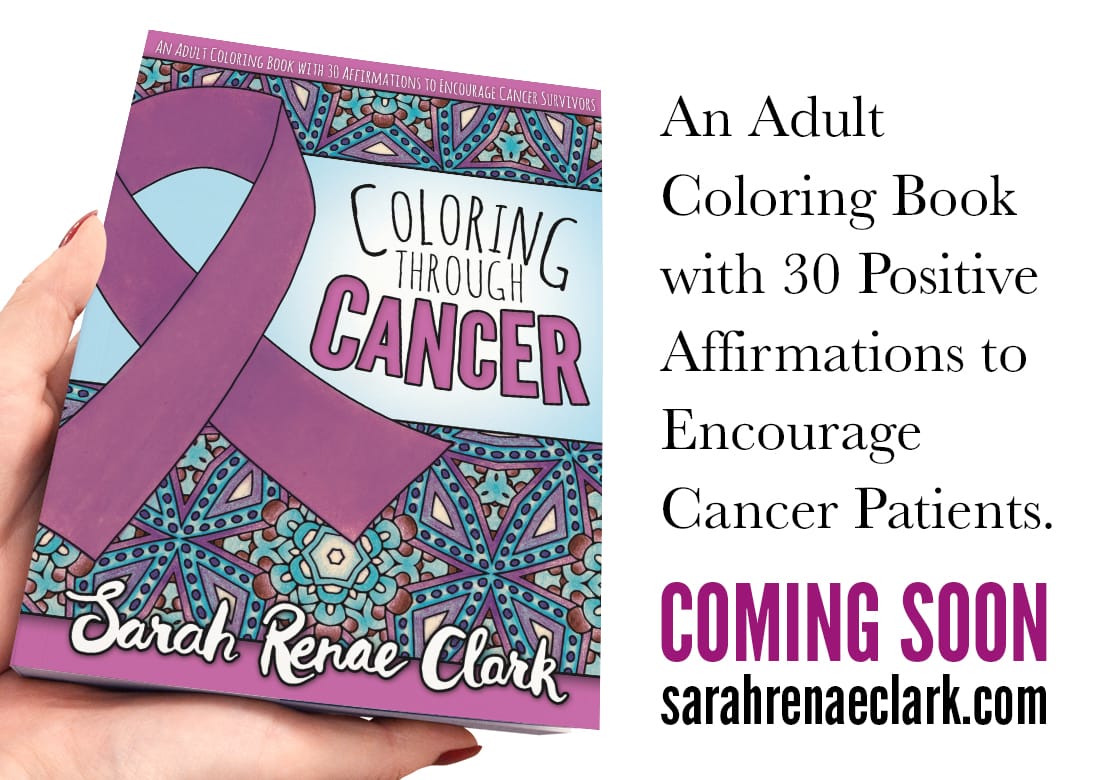 Coloring Through Cancer is a unique adult coloring book designed specifically for people who have lived with or are living with cancer. Featuring 30 single sided coloring pages, with each including a positive affirmation to encourage and uplift you or your loved one.
Many cancer patients are already turning to coloring books to relax, relieve stress and get through treatment. Coloring Through Cancer takes adult coloring one step further for cancer patients by introducing powerful affirmations to each page to encourage positive thinking.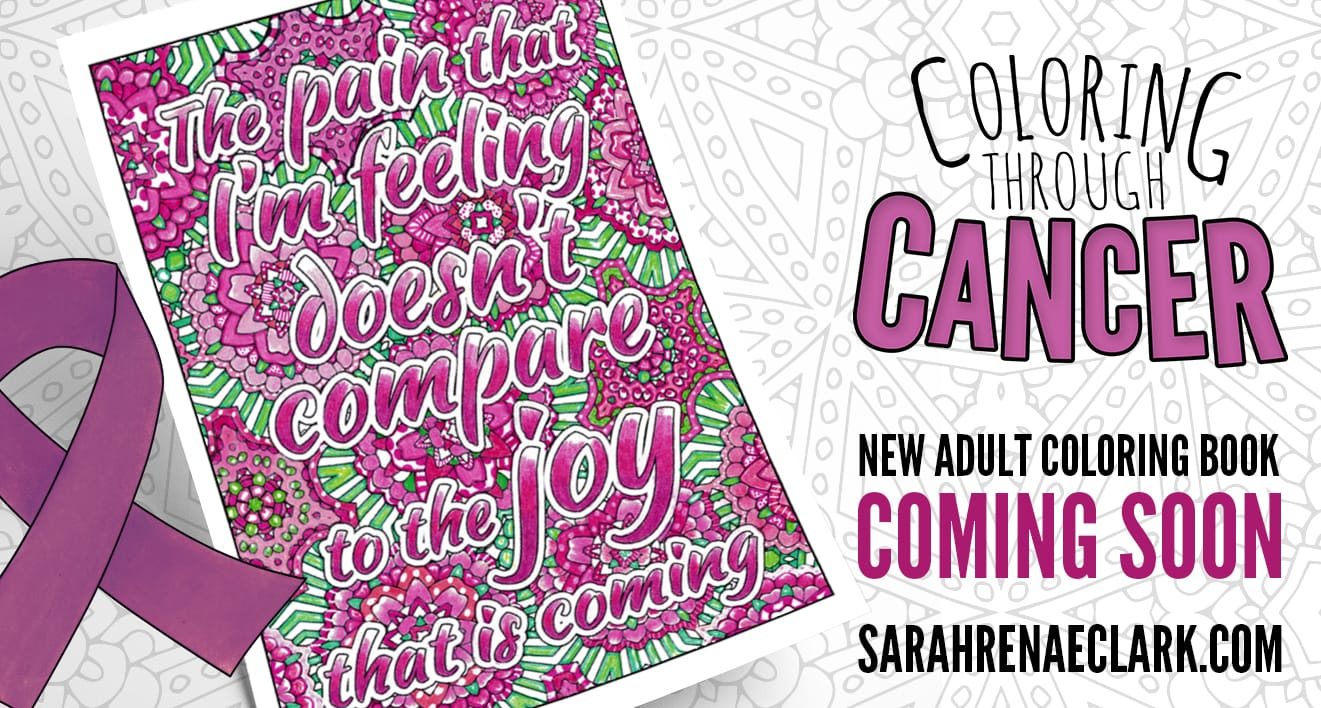 The positive affirmations found in the Coloring Through Cancer adult coloring book include:
Cancer doesn't define me
It won't be easy, but it will be worth it.
I will get through this
I am not alone
Nothing is impossible
The pain that I'm feeling doesn't compare to the joy that is coming
My family and friends love me
Nothing can steal my joy
I give thanks for my full recovery and perfect health
I am glowing with health and energy
I choose to think positive thoughts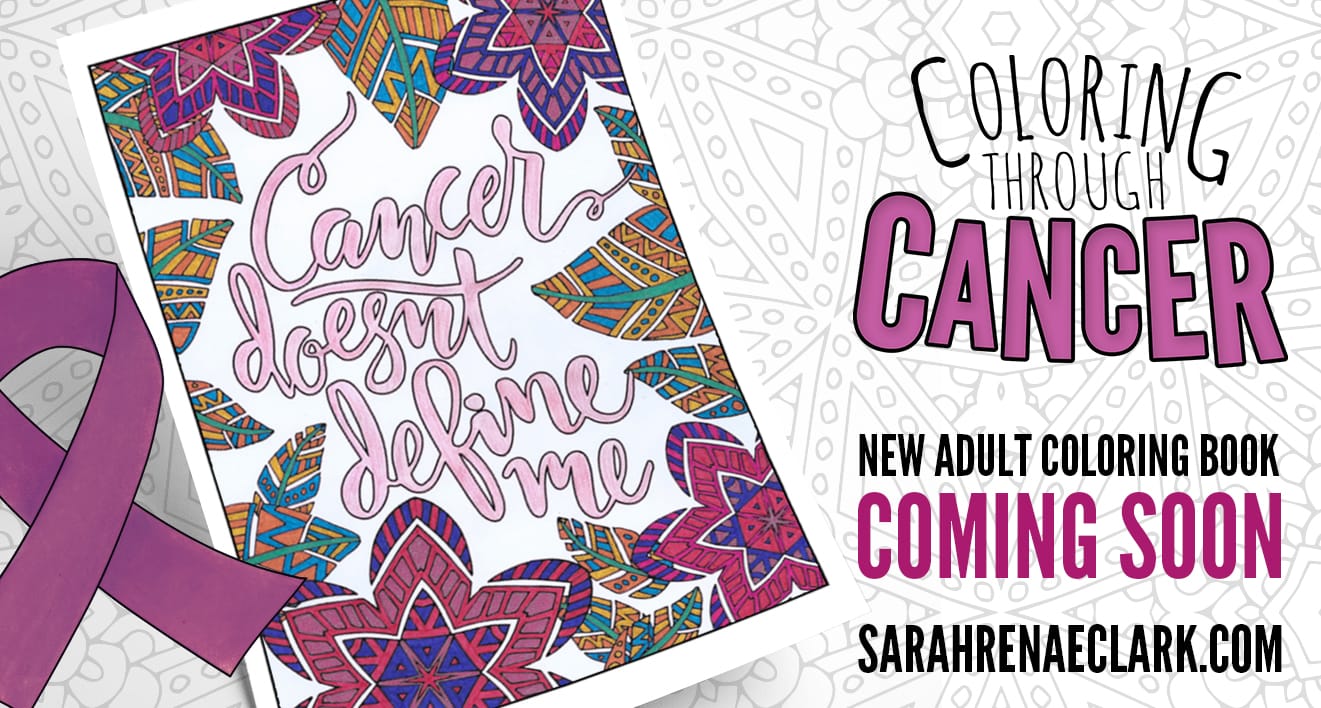 I will beat cancer
I am unstoppable
Life doesn't have to be perfect to be wonderful
I believe in miracles
Something good is going to happen today
My body heals as I sleep
I am beautiful
I surround myself with love and light
I will not give up
My body grows stronger every day.
I will keep on living
I heal with every breath in, and let go of cancer with every breath out
I will persevere
This too shall pass
Cancer has no power over my dreams
I will make every day count
Some days are harder than others (but hard is not impossible)
My courage is stronger than my fear
I am more than a conqueror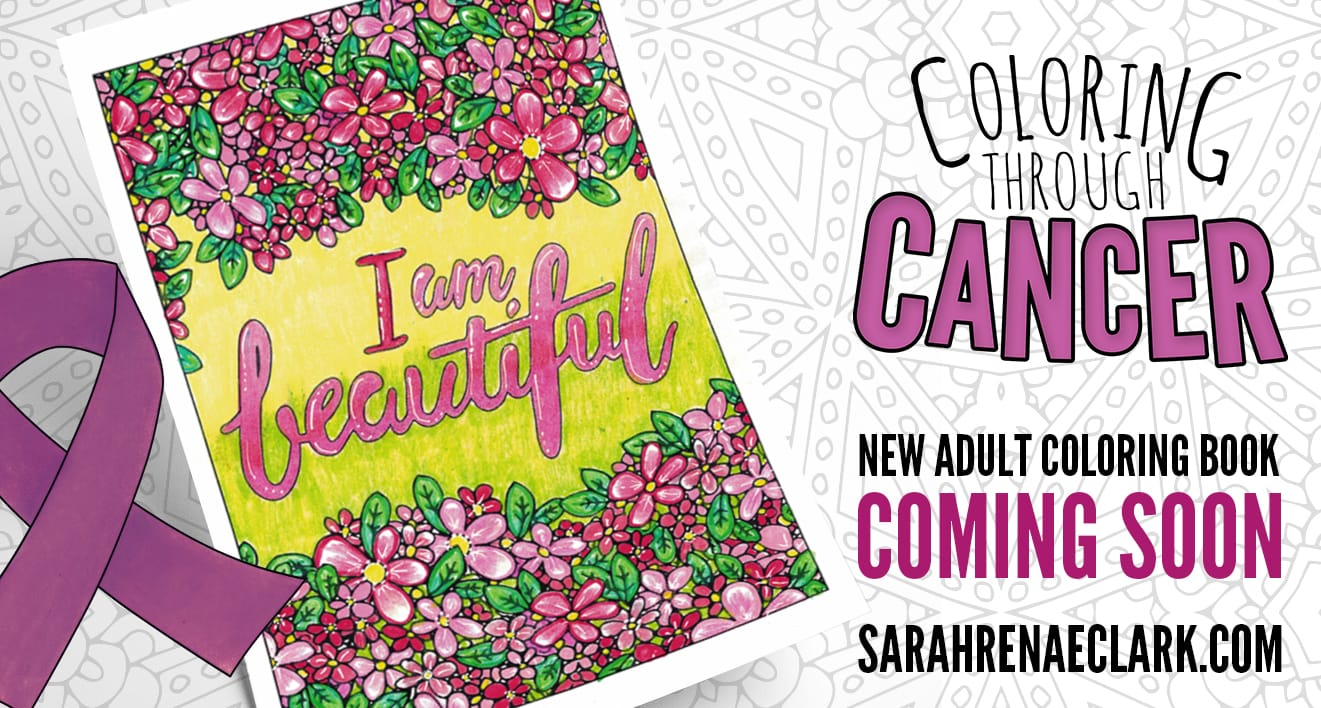 Coloring through Cancer will be available in the first week of July 2016 on Amazon and at sarahrenaeclark.com.
Anyone who has been through cancer, is going through cancer or who knows someone who has been affected by cancer needs to have this book! So please spread the word and invite your friends to my launch event.
You can get a sneak peek and enter my competitions for your chance to win a copy of the book by joining my launch event at sarahrenaeclark.com/launch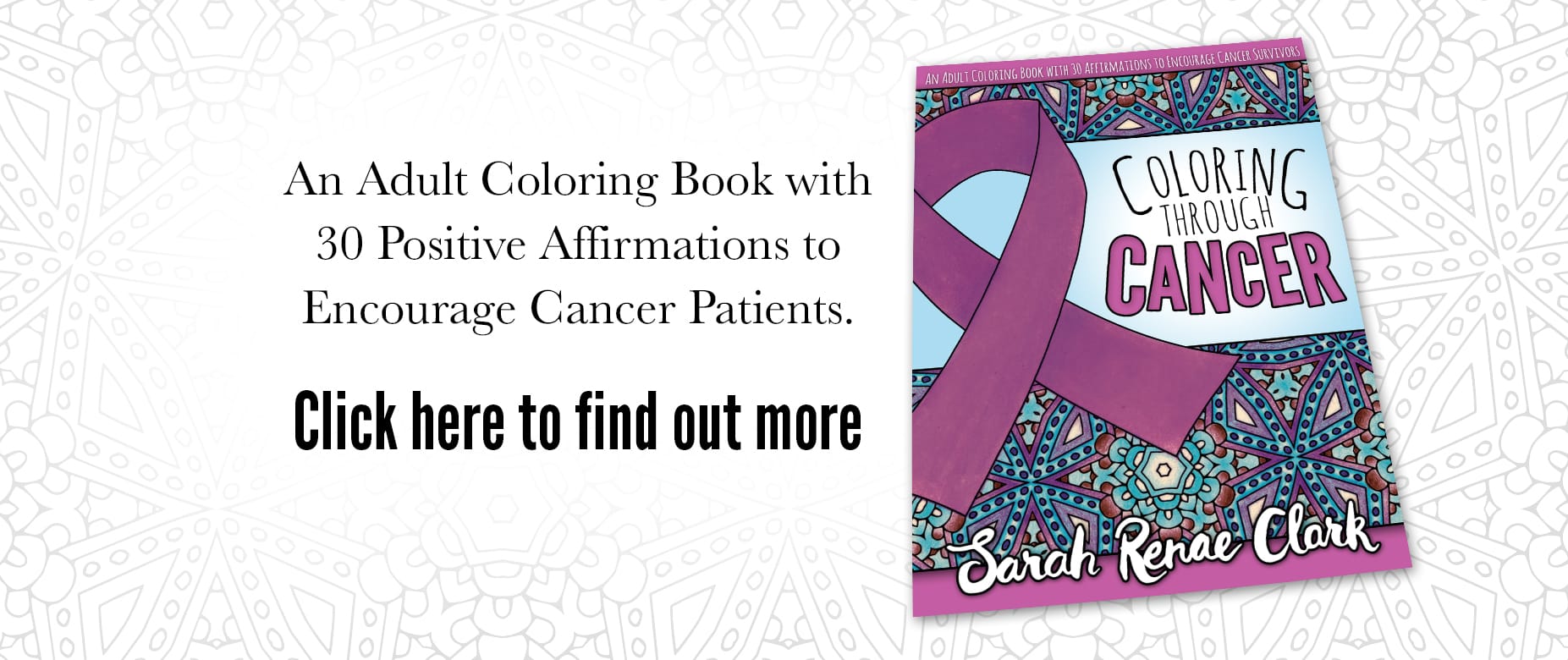 Save
Save
Save