If you're anything like me, your pencils, markers and coloring supplies keep growing… but you're running out of places to store them all!
Here are 20 great ideas from around the web to help get your pencils and markers organized. From DIY craft storage to Amazon organizers, I'm sure you'll find something suitable for your coloring supplies in this list!
For more ideas, please check out my Craft Organization Ideas board on Pinterest.
1. DIY Copic Storage Shelf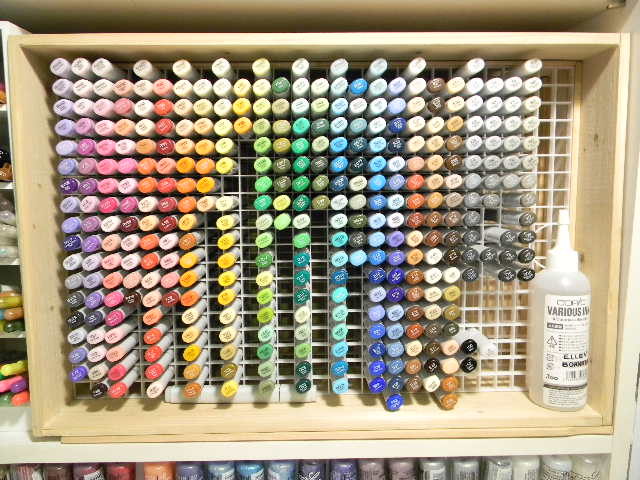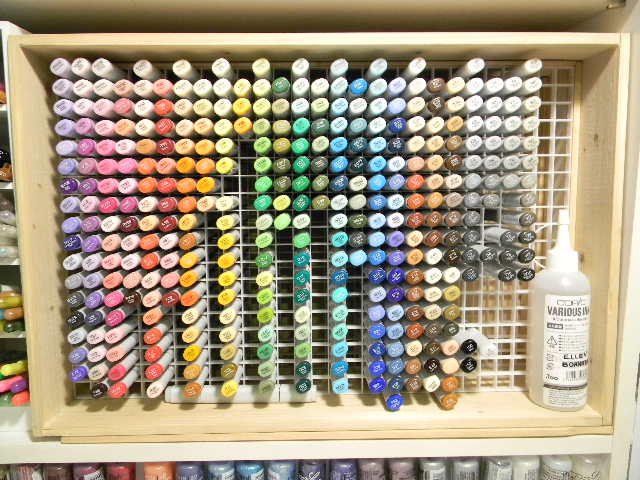 What a great way to easily store your Copic Markers using a light louver and wooden create. Learn how to make it here.
2. Copic Marker Briefcase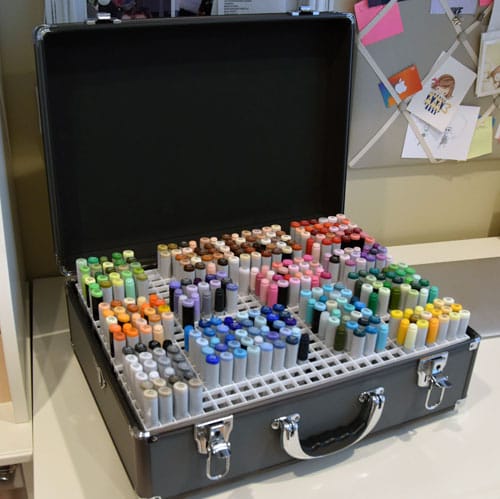 If you're looking for something portable, you can check out Copic's portable carry case or learn how to make your own DIY version here. (DIY version pictured)

3. Craftsman Tool tote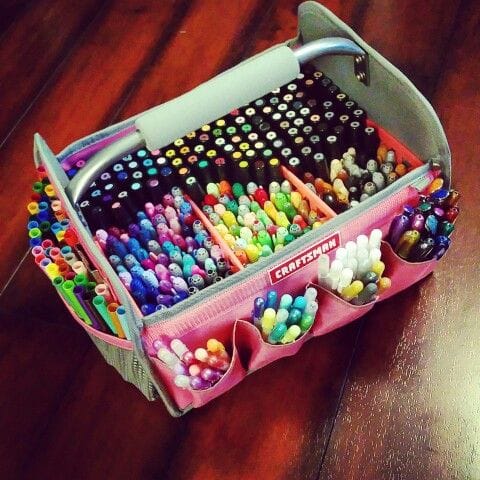 A Craftsman Tool tote is another great portable storage option for markers, pencils, general craft supplies… or even your coloring books! You can get one from your local shop or Amazon. (Picture source – Pinterest)

4. DIY Rotation Craft Caddy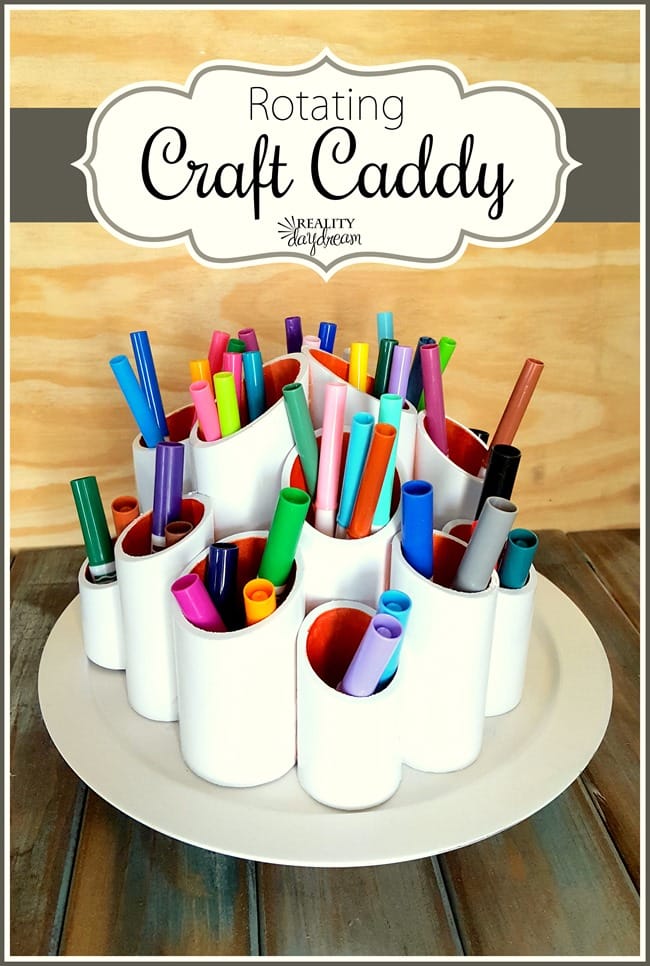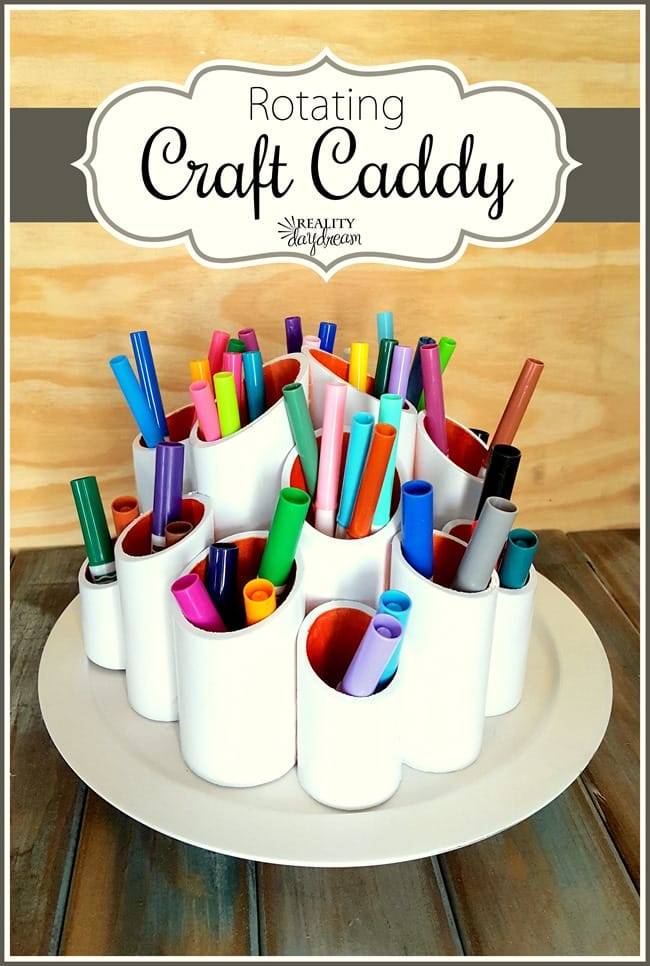 For something fun at home, try this DIY rotating craft caddy. Learn how to make it here.
5. Crafter's Companion Marker Storage Pack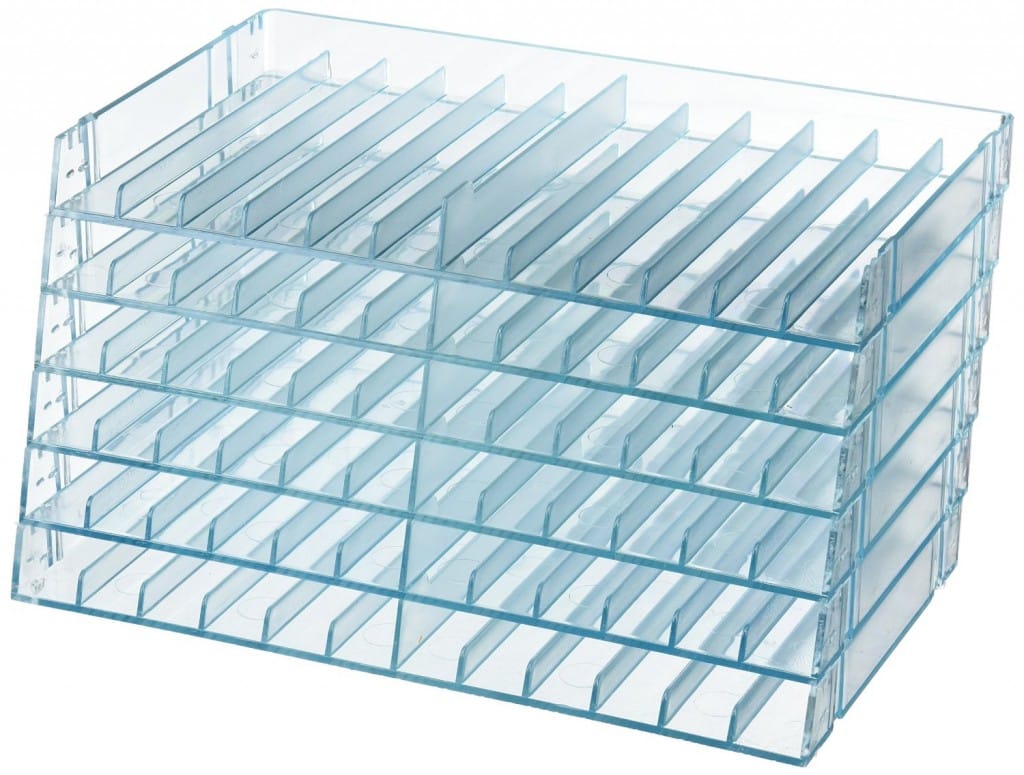 These stackable racks can be stacked vertically or connected horizontally for unlimited storage flexibility. You can order them from Amazon here.
6. ArtBin Marker Storage Container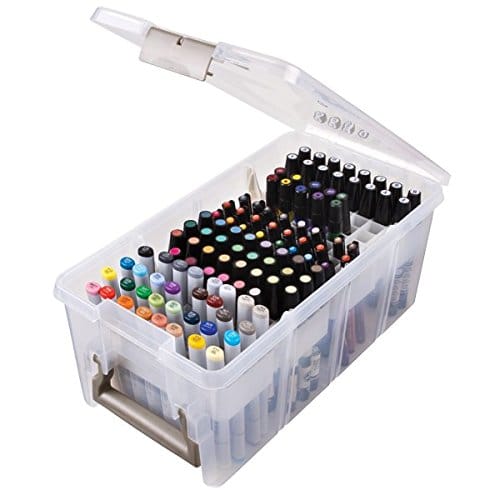 This storage container is a handy option when you need to hide your supplies in the cupboard or under the bed! Get it on Amazon here.
7. 3 Drawer Art Wooden Storage Box

You can get many varieties of wooden storage like this one for your art supplies. This one is by Create Mark and you can find it on Amazon here.
8. DIY Media Organizer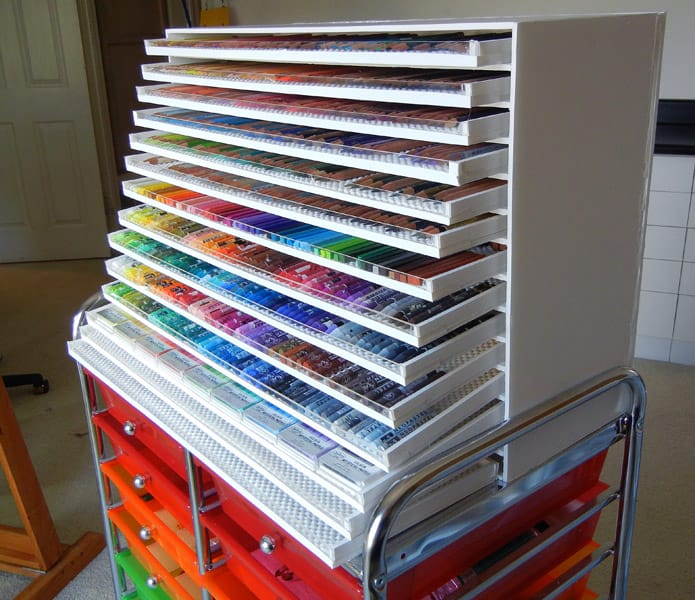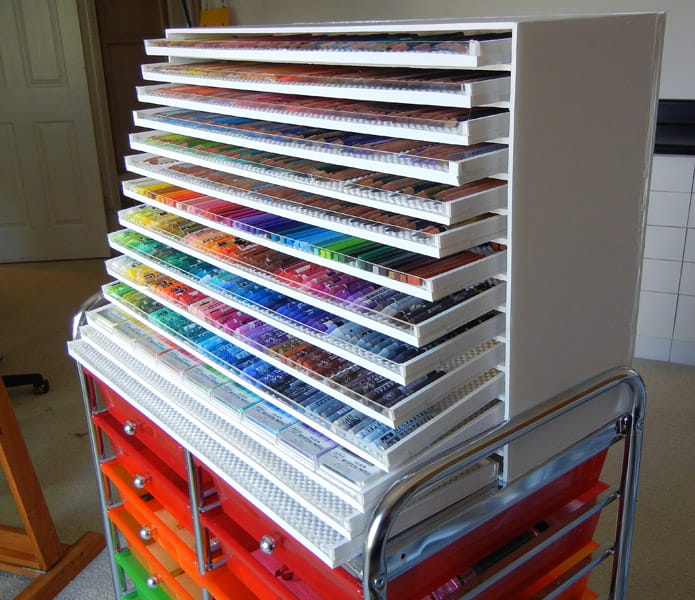 If you're feeling really crafty, you can make your own drawers like these! You can find detailed instructions on how to make it here.
9. DIY Peg Board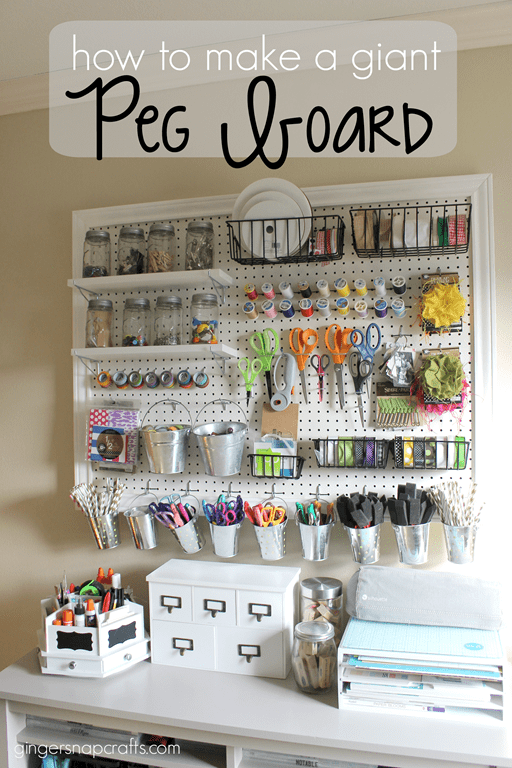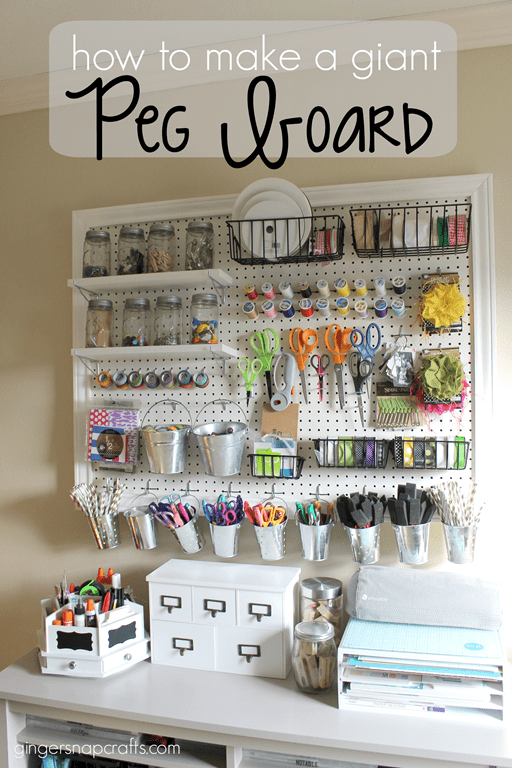 Peg boards are a great option for all kinds of craft supplies, and you can really customize them to your needs. Learn how to make this one here.
10. DIY Marker Tray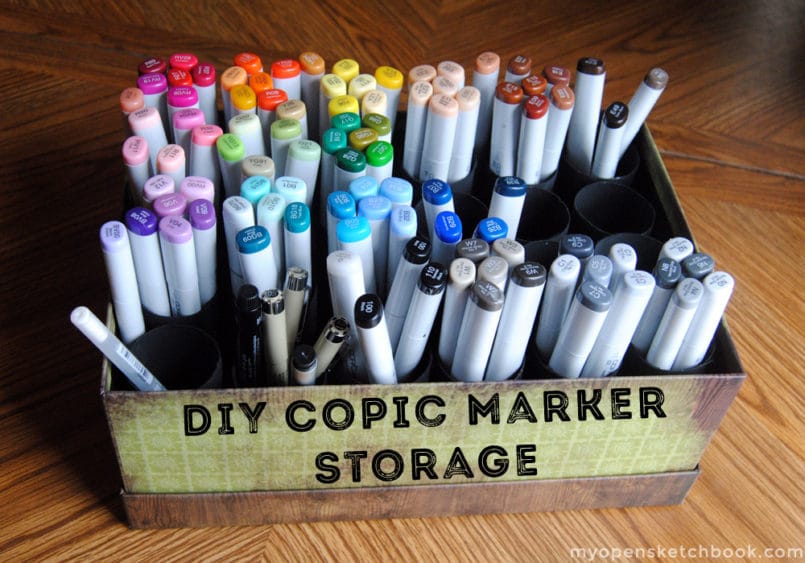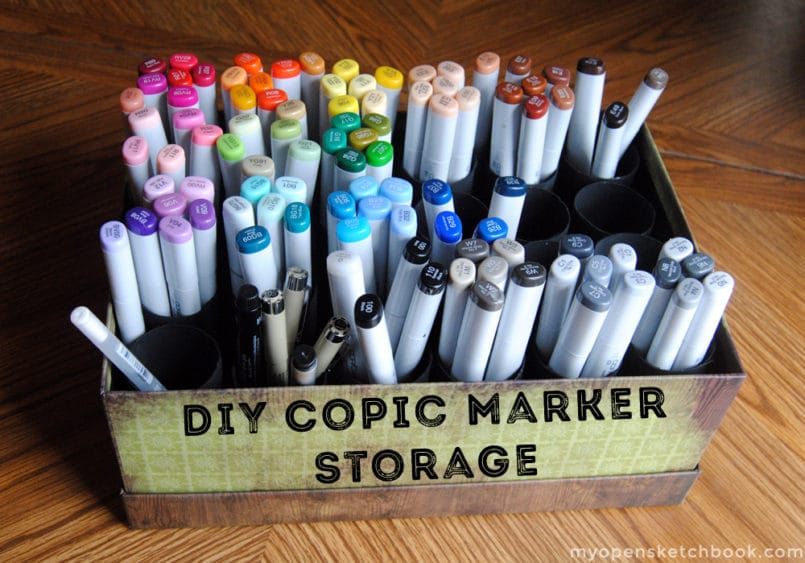 For those who want an easier DIY option, here's a great suggestion using toilet rolls and a box or crate. Learn how to make it here.
11. Portable Pencil and Pen Case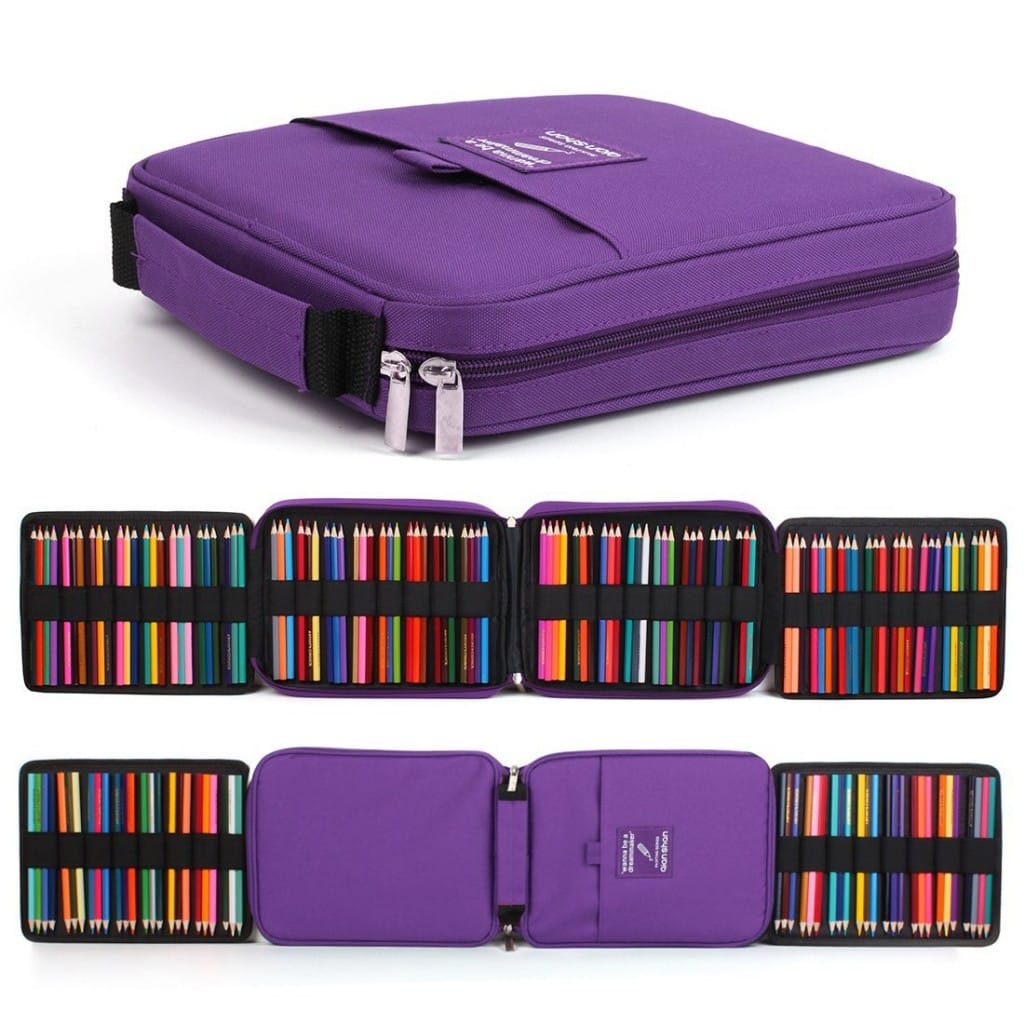 This handy pencil case stores up to 150 pencils or pens. You can find it on Amazon here.
12. Rollable Canvas Pencil Bag/Wrap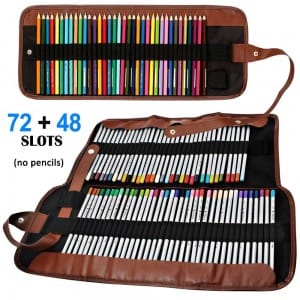 A rollable canvas pencil bag or wrap is perfect for travel. You can get these 2 wraps on Amazon here.
13. Refurbished CD Rack Copic Storage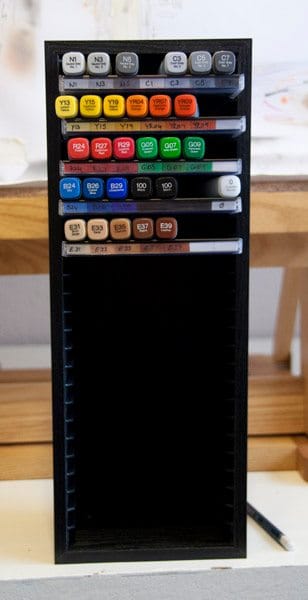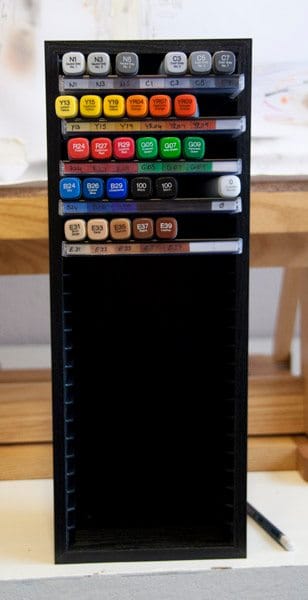 This is a clever way to refurbish an old CD rack for your Copic Markers. I love the color labels on each row. Check it out here.
14. DIY Marker Tote Bin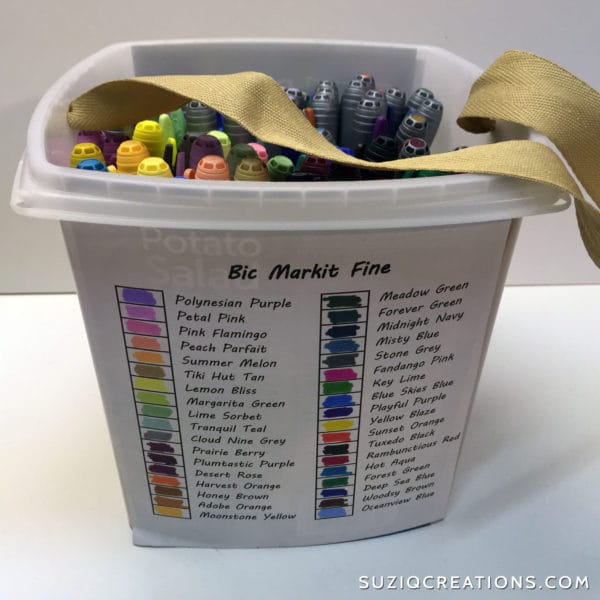 Upcycle an old food bucket to make this portable marker tote bin. Download the free color chart and learn how to make it here.
15. Artist's Loft Fundamentals Tote Bag
The Artist's Loft Fundamentals Tote Bag is another great portable option for your coloring books and supplies. Get it on Amazon here.
16. Everything Mary Deluxe Papercraft Organizer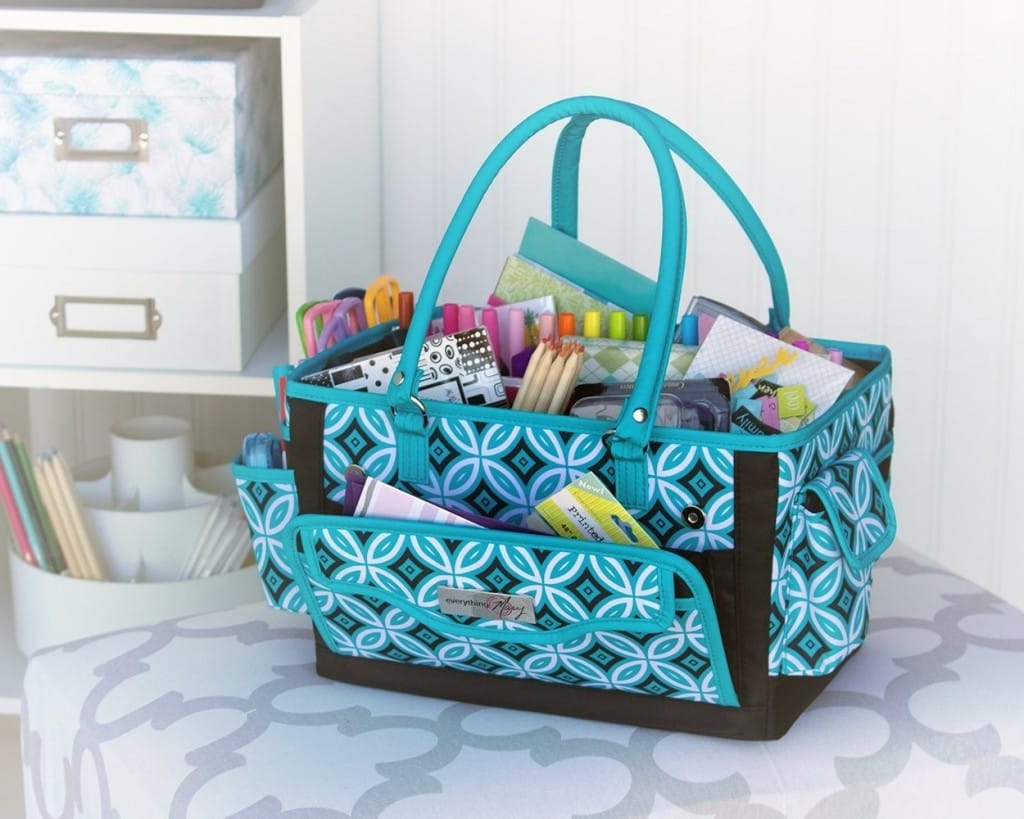 This Deluxe Papercraft Organizer by Everything Mary is another bag that adds a splash of color! Order yours on Amazon here.
17. DIY Homework Caddy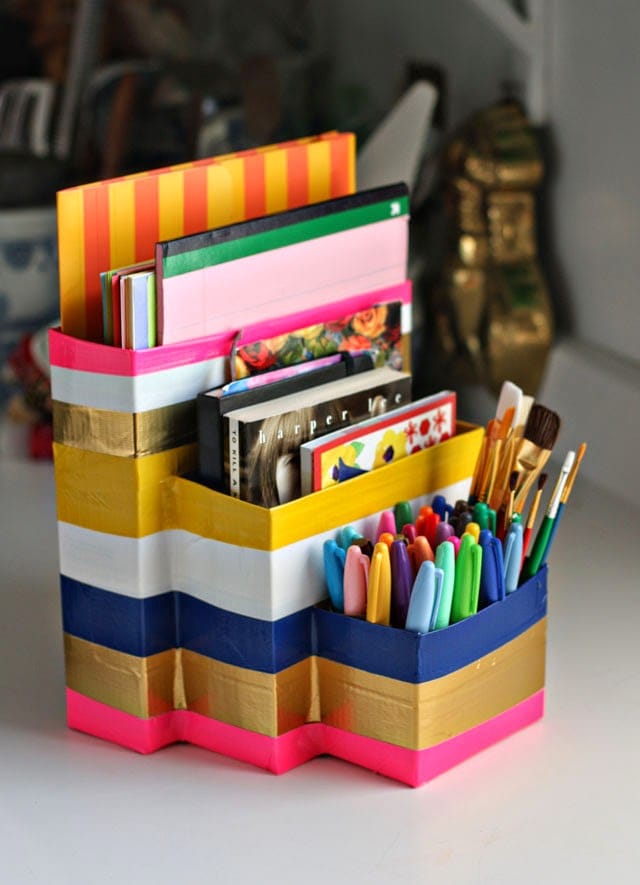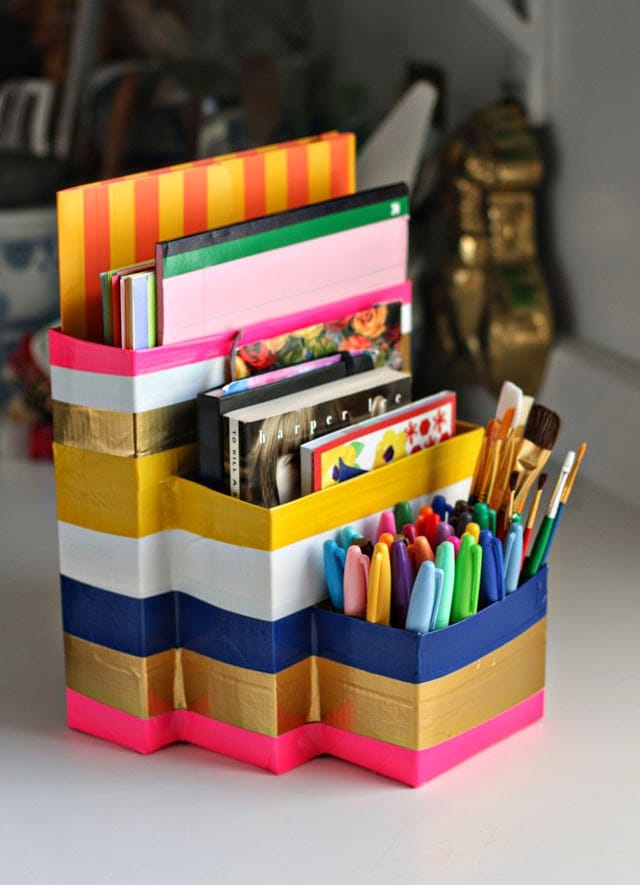 This DIY Homework Caddy is easy to make using recycled boxes. You can make your own variations with different size boxes to suit your own supplies. Learn how to make it here.
18. Copic Marker Wire Stand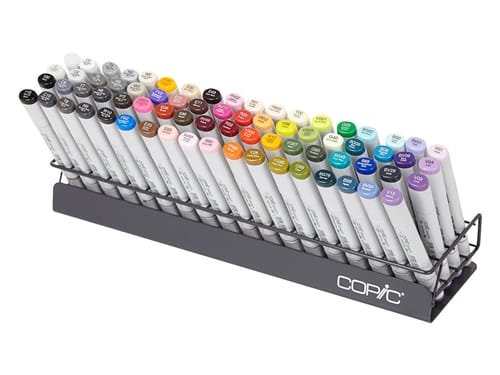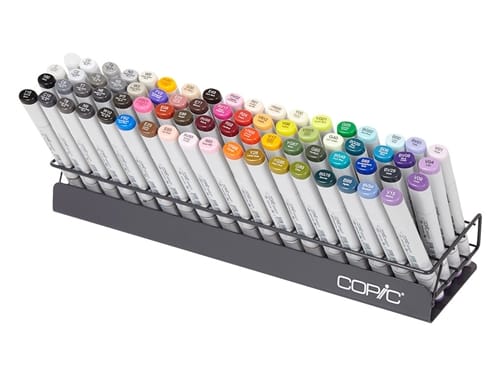 If you're a Copic Marker fan, you can get their wire stand for your markers on Amazon here.
19. Copic marker Wallet Case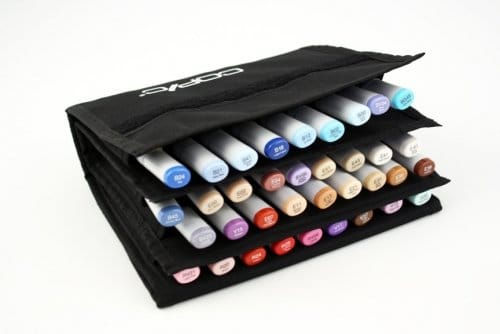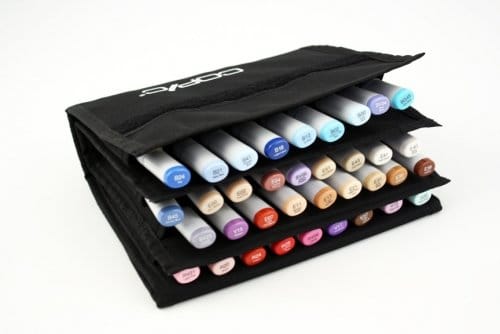 Another great product by Copic is this handy wallet case for coloring on-the-go. Get it on Amazon here.
20. Crafts, Crayons and Sewing Organizer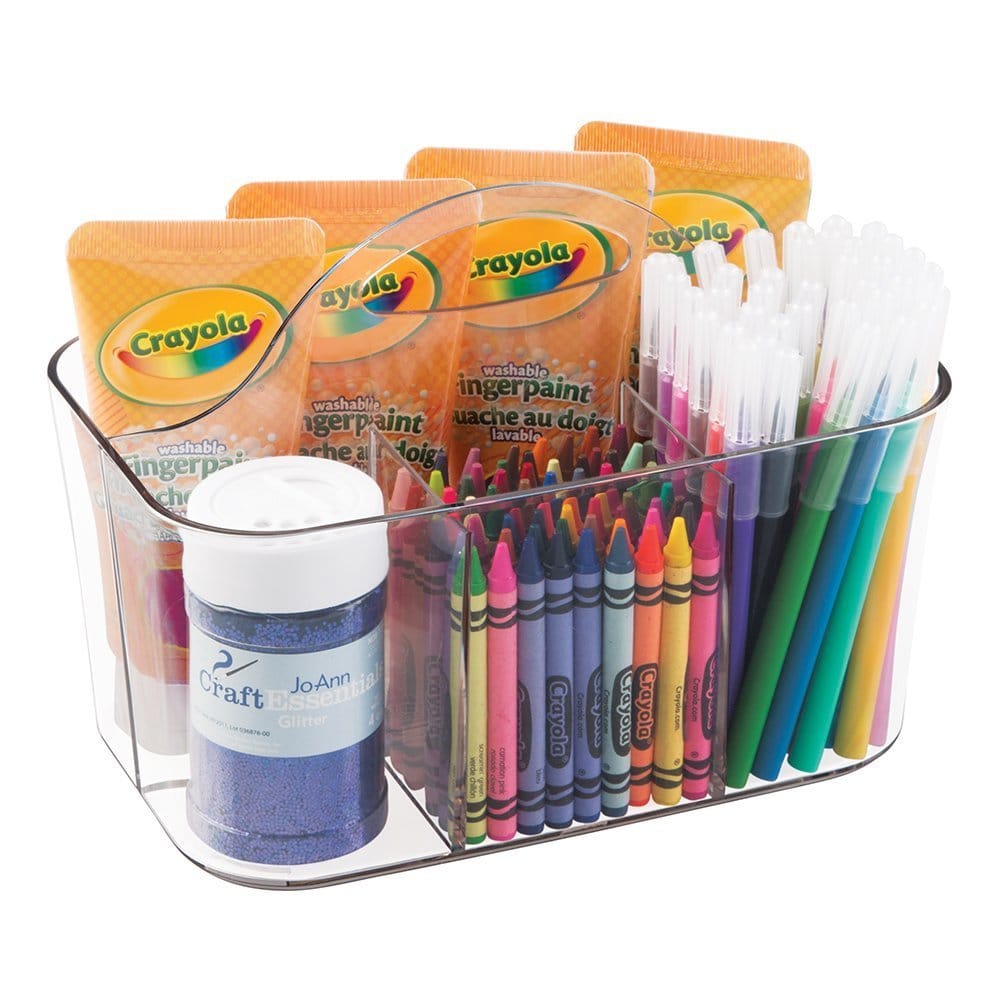 There are plenty of simple organizers like this online and in stores. You can get this one on Amazon here.
Have you found any other clever ways to store your supplies? Please tell me in the comments!
For more ideas, please check out my Craft Organization Ideas board on Pinterest.
Don't forget to save this post for later using the links below!
Save
Save