If you're like me and you love coloring, or if you're into steampunk art, tattoos or just beards, then you'll love to meet today's guest, Steve Turner (A.K.A. Squidoodle).
I have had the pleasure of thoroughly picking Steve's brain about his creativity and how he draws on his passion to run a successful illustration business. I first discovered Steve a few years ago on Facebook, where I stumbled across his Steampunk-style artwork and become an instant fan. Steve also designs coloring books, tattoos, prints, shirts and does beautiful commission pieces (for major book publishers and clothing companies).
Like many artists, his business is primarily based online and relies heavily on social media and his website to attract new fans and clients. At the time of this interview, Steve has an Instagram following of over 11,000, and so I've asked him to share his journey and give us some tips on what he did to become a successful and in-demand artist.
Enjoy!
Tell us a bit about yourself and your business.
I'm an artist and illustrator from the south-east of England. I live in a little town called Deal right on the beach. I design tattoos for people, coloring books, and custom illustrations for commissions. I work mainly in pen, sometimes pencil and very rarely in color. I've been drawing all my life and spent 20 years as a graphic designer. I now work in marketing full time and the art side of things just helps with the bills! Haha. I've done lots of commissioned work for companies around the world including museums, publishers, art supply companies and loads more. You could say my style is doodling – in that everything I produce is intricate, but I like trying different styles as I get bored easily.
What inspired you to start drawing?
When I was a kid my parents let me cover my bedroom with drawings that I'd do in marker pens then cut out. I never really stopped. I went to art college to study animation and filmmaking but always carried on drawing in my spare time. I find it therapeutic as well.
What are some of the main tools you use to find new clients and promote your art?
Facebook and Instagram. They are the only two channels I really use. I tried Pinterest and twitter but couldn't really dedicate enough time to it. Now I usually produce something and post it on Facebook and Instagram using groups on Facebook and hashtags on Insta. I contact other businesses from time to time and offer my services.
You have a beautiful Instagram account at @squidoodleart, with over 11k followers now. How long have you been on Instagram, and how has it impacted your business?
I started on Instagram in 2014. It has certainly helped – but only really in reaching people. It's hard to get sales from Instagram alone – but if you apply a customer journey to your marketing plan, it will eventually work. Engaging people first, sales later. What I like about Insta is its reach – its truly public – a few well-used hashtags and you reach the right people. Although I work in marketing, there is no specific special formula – if your work is good and eye-catching, people will find it. Hard graft is all it takes.
When it comes to choosing what to post on your feed, do you have a specific strategy? Talk us through your process.
Nope. I have no plan of scheduling. I post if I have something to post. If I don't have anything, I won't post. As I draw every day, I usually have something to post every day. I could never post something for the sake of it. That said, if I am producing a book, most of the posts will be progress shots of the illustrations that will go in the book – mainly to get people to remember the book and the illustrations when I finally finish it and start promoting it. I'll always try and get peoples ideas and opinions as well – its a sales strategy more than anything. If someone's idea gets used in my books, they're more likely to buy it when it's released.
As artists, it can be hard to post content that doesn't come across as promotional. How do you get around this?
I mix things up. Sometimes photos taken on my phone, sometimes scans. I often include my hand in the photos as this reinforces the hand-drawn proposition. I have a silly sense of humor so often post pictures with silly captions.
How often do you usually post?
I usually post every day, but only if I have something to post. Very rarely more than one a day.
Instagram Stories have been out for a while now, but many artists are still trying to work out how to use them effectively. Do you find Stories are an effective tool to promote your business? What kind of things do you share in your Instagram Stories?
Stories are cool to use as you can add stickers and gifs and locations and hashtags and even links (only available for business profiles with over 10k followers). I keep these light-hearted and funny as well. So I share progress photos, silly jokes, links to products, the odd selfie (I know, I know…..ha ha)
Hashtags – What are your thoughts?
Always – always use them. There are so many you can use. I usually use over 20 for each post – tattoo themed, illustration, black and white, specific hashtags for art sharing accounts.
I know many artists are afraid of posting their art without watermarks or covering it with pencils, but I've noticed you don't do this. Have you had any issues in the past with people stealing your artwork? Do you think large watermarks can ruin the Instagram experience for your fans?
I'm in the minority with art theft. I can't fight it and I won't. I'd be doing it forever. My opinion is, you're putting your work on the internet. It will get stolen. I don't like seeing work with watermarks. I see a lot of coloring book artists getting so worked up when people share freebies. You ain't gonna change peoples minds on that, so you might as well work on doing new stuff. I know that seems controversial and lots of people won't agree, but that's where I am. I'm lucky enough to be doing ok – if someone wants to steal my work and post it on Instagram as their own, that says more about them than me.
So how can an artist get new followers on Instagram? What's your secret to growing such a large audience?
I wish there was a secret formula. But there isn't – just keep producing good work and keep posting it. Sure there are some ways to help in a small way, like boosted posts, art sharing accounts (who will promote your work for a fee) and hashtags/tagging, but really you just gotta keep at it. Be real, be consistent, be nice. If someone compliments you, thank them. In a world of not very nice people, be a nice person.
What advice would you give to someone who is just starting out on Instagram?
Keep at it. Research your competitors, research your hashtags and research your audience. Engage people, ask for their opinions.
What's next for you?
I'll just keep making books and prints and t-shirts. I'm in talks with a very good literary agent on a few projects to get my books in shops, not just online. I've done a massive commission for a major publisher in the USA for a book cover illustration. I'm hoping that will lead to more work. I'll just keep drawing things I want to draw, and designing things for other people.
Check out Steve's latest book on Amazon (affiliate link)

About Steve "Squidoodle" Turner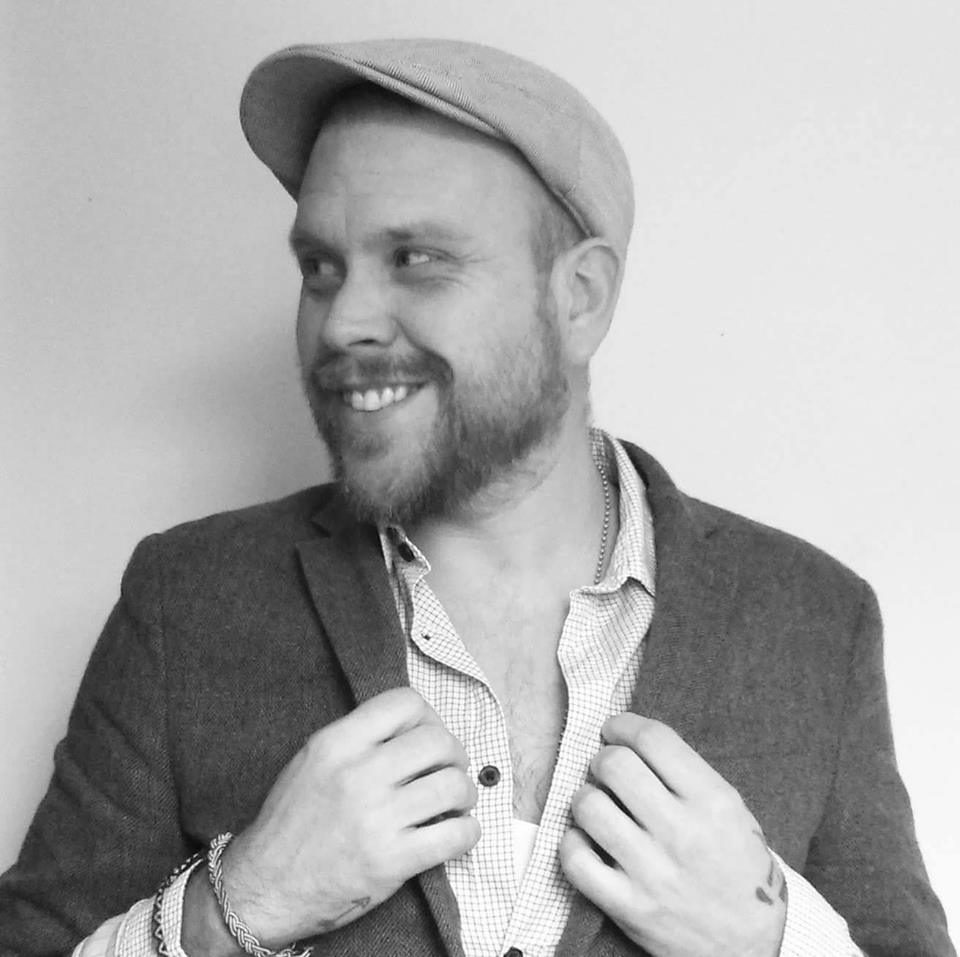 Steve "Squidoodle" Turner is an artist, illustrator, tattoo designer, coloring book creator and general bearded tattooed weirdo. You can visit his website to find out more, and grab some of his prints and free downloads: www.squidoodleshop.com