Have you ever wondered how artists choose such amazing colors that just work perfectly together?
It's time to share a secret… You don't have to be good at choosing colors to produce a masterpiece!
The trick? Get your color inspiration from other art, photos, interior design, nature and everything around you. But it gets even easier, because there are a number of fantastic people who have already done the hard work in finding great pictures and drawing out the colors into easy-to-follow color palettes that you can simply match to your pencils and start coloring!
So I've gathered a list of 10 great sources where you can find color palettes that have already been assembled for you. The options are endless, there are palettes to suit almost any theme, page or mood, and they all look great!
1. Pinterest
Pinterest contains a massive amount of color palettes curated by artists from all over the world. You can either do a search for "color palettes" with your color or theme (ie. "winter color palettes" or "purple color palettes") or you can find some good boards that collect color palettes and start following them.
Here are some Pinterest profiles worth following for coloring inspiration:
I've already mentioned Design Seeds on Pinterest, but they also have a beautiful website with all of their color palettes in well-organised collections, so you can find your palette based on a particular color or theme.
Color Palettes is another from the Pinterest list with it's own website. Each palette on this website is manually created and is the personal creative work of designer, colorist and photographer Alex Romanuke. You can also find his palettes at color.romanuke.com– although this website isn't in english.
4. From Pantone's recommendations
Everything from fashion trends to interior design is influenced by Pantone's predictions each year, so it makes sense to use their color predictions as color inspiration on whatever projects you are working on!
I've put together 30 of my own color palettes inspired by Pantone's Top 10 color trend predictions for Spring 2017 HERE.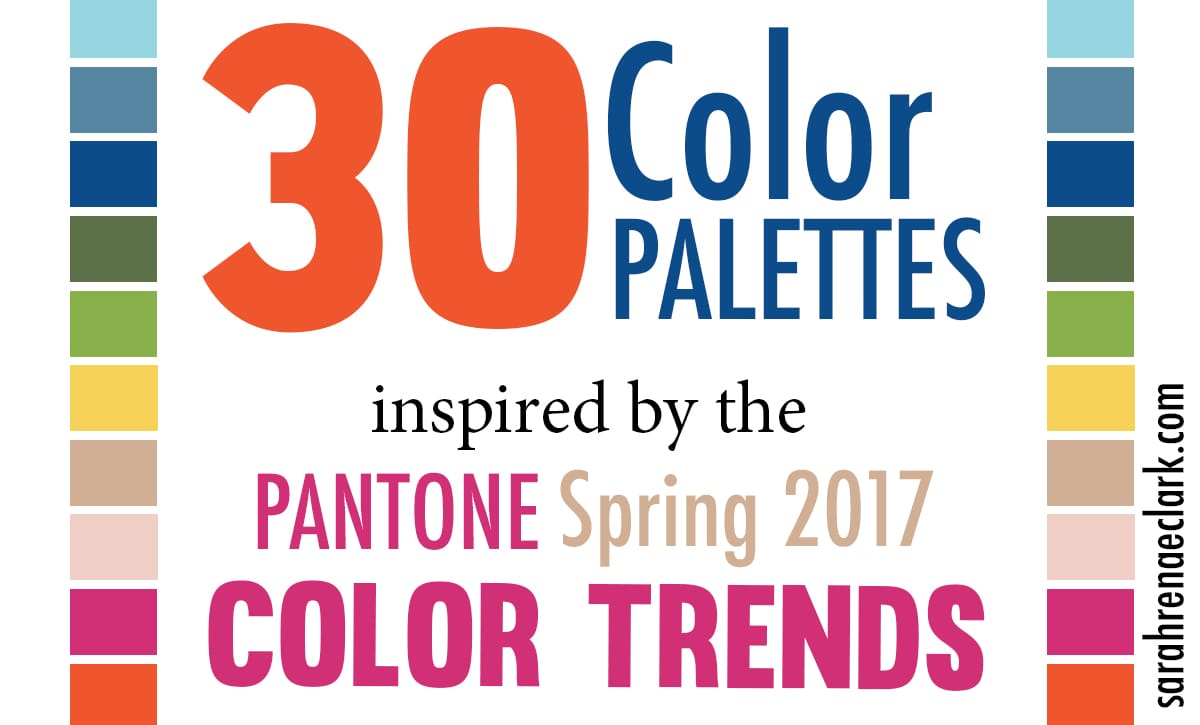 5. From the movies
If you're looking for a particular mood, why not grab the colors from your favorite movie scenes?
The "Cinema Palettes" Twitter page is just one example, full of color palettes that have already been pulled from popular movies for you! Check it out HERE.
6. From your own photos
Why not use your own personal photographs and special memories to inspire your color choices? What a beautiful way to really make your art personal! There are a few websites like Pictaculous.com that allow you to upload your own photos that will pull the color palettes from them for you, so you don't need to be a Photoshop expert to do this! Although personally, I think you'll get better results pulling the colors out yourself.
Akula Kreative regularly add new color palettes to their blog. Some of their photos are stunning!
Adobe has a huge library of color swatches that have been submitted by other users. You can choose a palette and then make further changes to each indivual color. You can also set "color rules" to limit the selection to only analogous colors, complementary colors, triad colors, shades and more.
Colourlovers is a community where you can create and share colors and patterns. They have over four million palettes to choose from!
This great blog post from Canva highlights 100 brilliant color combinations and how to apply them to set the right mood and bring your design to live. It's a great read, and has some beautiful examples of color palettes. There are some other great blog posts on color if you browse the website.
Now, over to you…
There are many other sources of color inspiration – these are just a few of my favorites. Now it's up to you to find the perfect fit for your artwork or coloring page to set the perfect tone and create a masterpiece!
Do you have any other sources you'd like to see added to this list?
Save
Save
Save
Save
Save
Save
Save
Save
Save
Save